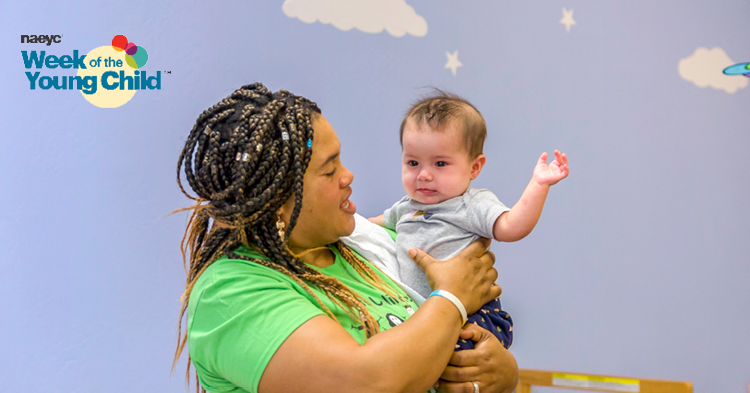 Communities across Arizona will join the annual nationwide celebration that focuses attention on early learning and the educators who support the positive development of young children.
Many First Things First regions are partnering with local organizations to recognize the annual Week of the Young Child, which this year falls during April 8-12, and is hosted by the National Association for the Education of Young Children (NAEYC). The week is filled with ideas for hands-on, collaborative activities encouraging movement and healthy lifestyles through music, food and art.
In the far northeast corner of the state,  the FTF Navajo Nation Region will host a two-hour radio forum on local station KTNN-AM/FM on April 10, designed to give listeners – especially parents and caregivers of young children – an opportunity to discuss topics ranging from early literacy and language to healthy brain development with a panel of early childhood experts. The interactive Read and Rise Radio Forum will broadcast live on KTNN-660 AM and KTNN-101.5 FM from 6-8 p.m. daylight saving time (DST).
In the central part of the state, The FTF Pinal Region, along with the Pinal Early Childhood Coalition, will host family fun events throughout Pinal County during Week of the Young Child, starting with a free event 10 a.m. to noon, April 8 at Pacana Park in Maricopa.
There is a theme for each day of the week: Music Monday, Tasty Tuesday, Work Together Wednesday, Artsy Thursday and Family Friday. Each theme focuses on a particular content area with suggestions for celebrating while also raising awareness of the importance of quality early experiences. Follow and share with the hashtag #woyc19 on social media to amplify the importance of early learning in Arizona and across the country.
Week of the Young Child events
FTF East Maricopa Region
April 8-12
Check Chandler Public Library website for exact times
Baby time, Toddler time and Family story times
Presenters at  Lap sit Baby time, Toddler time, and Family Story time programs will  share with parents – who are their children's first teachers – that children are never too young to practice the five early literacy skills of talk, sing, read, play and write.
Chandler Public Library (Downtown)
22 S. Delaware St., Chandler, AZ 85225
April 9
9:45-10:30 a.m.
Family Yoga Story Time and Snack
No experience necessary, but come dressed to move. There will be stories, songs and yoga poses, followed by a healthy treat during WOYC's Tasty Tuesday, which focuses on healthy eating and fitness.
Desert Foothills Library
38443 N. Schoolhouse Road, Cave Creek, AZ 85331
April 11
5:30-8:30 p.m.
Cerritos Spring Carnival
Be an Artist is partnering with First Things First to remind everyone that the early years matter and to celebrate their creative abilities. Children are encouraged to come paint a canvas. Children 5 and under will receive a free book in lieu of Week of the Young Child (Artsy Thursday).
Kyrene de los Cerritos Leadership Academy
14620 S. Desert Foothills Parkway, Phoenix, AZ 85048
April 12
2:45-3:45 p.m.
Family Friday Fiesta
In partnership with First Things First, Guadalupe Library is celebrating the Week of the Young Child. Preschoolers and their caregivers are invited for a family-themed story time. Enjoy refreshments, music and giveaways.
Guadalupe Library
2538, 9241 S Avenida del Yaqui, Guadalupe, AZ 85283
FTF Navajo Nation Region
April 10
6-8 p.m. daylight saving time (DST)
Read and Rise Radio Forum will broadcast live on KTNN-AM 660 and KTNN-FM 101.5.
FTF Navajo/Apache Region and White Mountain Apache Tribe Region
April 13
9 a.m.-noon
Early Childhood Celebration
Many activities including yoga, face painting, story time and loose parts build-it-yourself STEAM section. Free to all.
RE Center
814 E White Mountain Blvd., Pinetop, AZ 85935
FTF Northwest Maricopa
April 8
10- 11 a.m.
Sing and Move
It's a CELEBRATION! Favorite children's songs and freestyle dancing! Come sing and dance with us as we celebrate young children!
Skyview Elementary School
8624 W. Sweetwater Ave., Peoria, AZ 85381
April 8
10:30-11:30 a.m.
Fitness Fun
Let's get physical! Come dressed to move! Fitness fun for all! No experience necessary!
Desert Palms Elementary School
11441 N. 55th Ave, Glendale, AZ 85304
April 9
10-11 a.m.
Story Time Snack
Taste and see that reading is good! Come enjoy a story and a snack!
Skyview Elementary School
8624 W Sweetwater Ave., Peoria, AZ 85381
April 9
10:30-11:30 a.m.
Yummy Discovery
Open wide and put something yummy inside! Come discover the flavors of fun and healthy foods!
Desert Palms Elementary School
11441 N. 55th Ave., Glendale, AZ 85304
April 9
10-11 a.m.
Songercize
Come jam to food inspired tunes!
Country Meadows Elementary School
8409 N. 111th Ave., Peoria, AZ 85304
April 10
10-11 a.m.
Story and Craft
Come read "I am Helping!" and then create a related craft.
Skyview Elementary School
8624 W Sweetwater Ave., Peoria, AZ 85381
April 10
10:30-11:30 a.m.
Story Time
TEAMWORK MAKES THE DREAM WORK! Come be inspired and enjoy various books about families working together!
Desert Palms Elementary School
11441 N. 55th Ave., Glendale, AZ 85304
April 10
10-11 a.m.
Earth Day Process Art
EVERY CHILD IS AN ARTIST! Come enjoy the process of creating!
Country Meadows Elementary School
8409 N. 111th Ave., Peoria, AZ 85304
April 11
10-11 a.m.
Play Art Yoga
Come dressed ready to move and create!
Skyview Elementary School
8624 W. Sweetwater Ave., Peoria, AZ 85381
April 11
10:30-11:30 a.m.
Process Art
EVERY CHILD IS AN ARTIST! Come enjoy the process of creating!
Desert Palms Elementary School
11441 N. 55th Ave., Glendale, AZ 85304
April 11
10-11 a.m.
Play 2 Learn (art theme)
Come learn how fun learning can be through art!
Country Meadows Elementary School
8409 N. 111th Ave., Peoria, AZ 8534
April 12
10-11 a.m.
Play 2 Learn (art theme)
FAMILY TIME IS FUN TIME! Games, books, and toys make family time engaging and fun!
Skyview Elementary School
8624 W. Sweetwater Ave., Peoria, AZ 85381
April 12
10-11 a.m.
Play 2 Learn (art theme)
FAMILY TIME IS FUN TIME! Games, books, and toys make family time engaging and fun!
Desert Palms Elementary School
11441 N. 55th Ave., Glendale, AZ 85304
April 12
10-11 a.m.
Family Pajama Party
Stories are best when we're our coziest! Come enjoy story time in your comfy PJs!
Country Meadows Elementary School
8409 N. 111th Ave., Peoria, AZ 8534
FTF San Carlos Apache Region
April 9
5 p.m. to 7 p.m.
Family Fun Night (Rice Gym)
Join a night of fun for the family with a focus of young children birth to age 5. There will be age appropriate games as well as resources shared by all participating programs.

5:30 p.m.
Week of the Young Child Fun Walk (Rice Gym)
Yavapai St. and San Carlos Ave., San Carlos, AZ 85550

April 10
9 a.m. to 3 p.m.
Fun in the Sun (PHN parking lot)
An early childhood focused event for families to attend and have fun with their children. There will be fun and games as well as early childhood information and resources shared by all participating programs.
103 Medicine Way, Peridot, AZ 85542
FTF Southwest Maricopa Region
April 6
10 a.m.-1 p.m.
Avondale KidsFest
Free event hosted by the City of Avondale that showcases community groups dedicated to families and children, while celebrating the value and importance of families as a key part of a healthy community.  The focus of this event focuses on the early years are the learning years, which includes literacy, education, healthy lifestyles, water safety, interactive activities and entertainment for children birth to 5 years old.
Friendship Park
12325 W. McDowell Road Avondale, AZ 85323
FTF Pinal Region
April 8
10 a.m.-noon
Free Family Fun Day
Pacana Park
19000 N. Porter Road, Maricopa, AZ 85138
April 9
10 a.m.-noon
Free Family Fun Day
Flatiron Park
100 N. Apache Trail, Apache Junction, AZ 85120
April 10
10 a.m.-noon
Free Family Fun Day
San Carlos Park
300 W. Central Ave., Coolidge, AZ 85128
April 11
10 a.m.-noon
Free Family Fun Day
Central (Main Street) Park
601 N. C St., Eloy, AZ 85131
FTF Yuma Region
April 27
9 a.m.-noon
Families Reading Together!
Celebrate Yuma's young children at this free event with arts and crafts, music and movement activities and more.
Heritage Library
350 S. 3rd Ave., Yuma AZ 85364