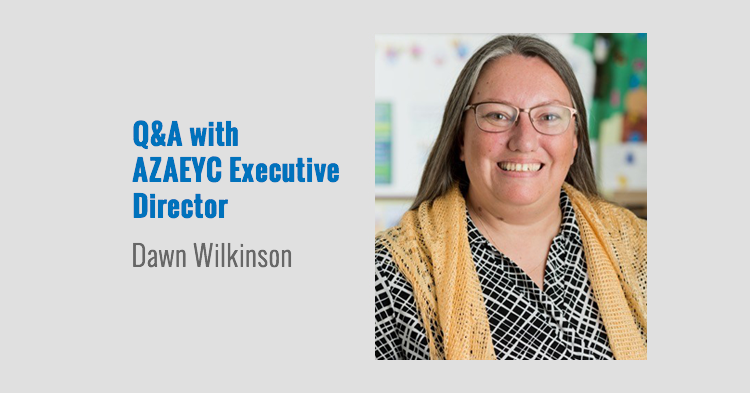 What role does AzAEYC play in supporting Arizona's education system?
AzAEYC is a state professional organization and affiliate of the National Association for the Education of Young Children (NAEYC). A strong early childhood workforce is essential to the success of early learning programs and services for children and families. Early educators are heroes! We are passionate about supporting our early childhood professionals in Arizona.
What is the Week of the Young Child™?
This is our annual celebration hosted by NAEYC. WOYC is a nationwide effort to raise awareness about the importance of quality early learning. WOYC 2018 takes place from April 16-20. There's a theme for each day of the week around a particular content area with suggestions for celebrating. Follow and share with the hashtag #WOYC18 on social media to amplify the importance of early learning in Arizona and across the country!
Join us in celebrating WOYC! Follow @AzAEYC on Facebook and Twitter.
Talk about AzAEYC's newest project, AZToolkit. What should program directors and early education programs in Arizona know about this opportunity?
We want to put more time in your day! AZToolkit helps program providers reduce time spent on administrative details and spend more time on strengthening the quality of early education programs. This shared resources/services digital platform offers instant buying power within an existing nationwide pool of purchasers. Subscribers save on child care products, office and safety supplies, credit card processing, payroll services and more. AZToolkit is offered on a subscription basis to early learning providers in Maricopa County and Arizona.
How can people find out more about NAEYC/AzAEYC, the history of these organizations, and why they were established?
We've created a brief history of child care in the United States on our website that follows the growing need for early learning programs that serve families, including the establishment of NAEYC in the early part of the twentieth century. Fascinating fact: in 1971, Congress passed a bill making quality preschool education available to any family in the United States. The bill proposed that the federal government would set quality standards and provide backup services, like meals and medical and dental checkups to families. Tuition would depend on the family's ability to pay.
Unfortunately, that bill was vetoed by then-President Richard Nixon. We were so close! So, the promise of high-quality early learning for our children, our families and our communities makes our work today more important than ever.
What's an example of how AzAEYC and NAEYC advocate for early childhood professionals and the children in their care?
Recently, AzAEYC joined First Things First in sending representatives to NAEYC's Public Policy Forum in Washington, DC. We visited congressional offices and spoke to our representatives about the needs of our youngest citizens and our early ed workforce. Our hard work paid off when Congress passed a bill increasing Child Care and Development Block Grant (CCDBG) funding by $2.4 billion. CCDBG supports low-income working families by providing access to affordable, high-quality early care and after school programs.
How can busy parents and families advocate for accessible, affordable high quality experiences for young children?
Develop a rapport with your local, state and national representative. You'd be surprised at how accessible these lawmakers are through email or interactions on social media. We all are really busy, but our voices matter! Most importantly, register to vote, follow the issues and please get to the polls. For a few simple ways to make a difference, we've put together a mini-guide with advocacy action steps that anyone can take.