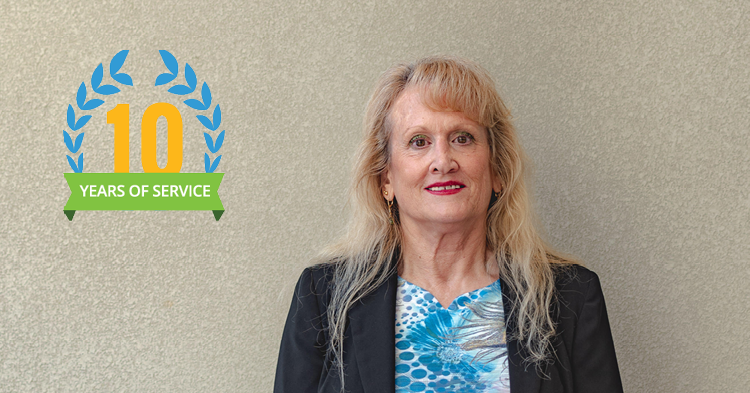 First Things First is celebrating the commitment of nearly 50 volunteers who have served on a regional partnership council for a decade.
Over the past few weeks, we introduced you to some of these 10-year FTF volunteers from different regions throughout Arizona. Each profile is followed by a complete list of the members in that regional area who have served for 10 years. Regardless of their location or affiliations, these individuals share one common trait: they are passionate about improving the lives of young children in their communities. They are true champions for children.
Please read about FTF Cochise Regional Council member Nancy Jean Welker:
When school boards talk about raising student achievement, the conversation often turns to teacher recruitment and retention, early identification of struggling students and mentoring programs. Nancy Jean Welker would like one other strategy added to that list: investment in early childhood.
Currently the Vice President of the Bowie Unified School District Governing Board, Welker sees first-hand the impact a lack of school readiness can have on individual children, on their teachers and their schools.
"When children start out behind, it's very hard for them to catch up," Welker said. "It makes learning harder for them, teaching more difficult for the educator, and costs – both human and capital – higher for the district," Welker said. "The opposite is also true. When children arrive ready, the entire class can move forward, all students learn more, and the district would have funds to further enrich their school experience."
Welker sees her role on the FTF Cochise Regional Council as an opportunity to spread that message among policymakers, at the board, city and state levels.
"We can't keep raising the bar on kids and teachers, and then not investing in the strategy that has been proven to impact school readiness and later success: quality early learning," Welker said.
From the time she first heard a presentation on North Carolina's Smart Start initiative, Welker knew early childhood was a must for Arizona.
"It just made absolute sense to me," Welker said. "In any kind of reform, you are going to get the best results if you attack the problem at its foundation."
Welker said her tenure on the regional council has offered many opportunities to see the impact of local early childhood investments.
"The greatest reward is when we have families tell us what the programs and services funded have meant to their child," Welker said. "As policymakers, we look at a lot of data, a lot of research. But when you look at a child – when you hear a child tell you the book you just handed her is the first time anyone has ever gifted her with a book – and you know what an amazing difference that's going to make for that specific child; it's everything."
"We've got to get creative or our kids will pay the price," she said. "We can't pit preschoolers against K-12, and then against colleges. These are all parts of a quality educational system, and we need to be creative in our approaches and steadfast in our support. It's not about doing more with less. It's about helping each other do the most with what we have and using those successes to drive more investment. Education shouldn't be the battlefield. It should be the leveling field."
10 years of service
FTF Central East Regional  Area
Cochise Region
Nancy Jean Welker
Graham/Greenlee Region
Donna McGaughey
Laurie Smith
Pinal Region
Christina Jenkins