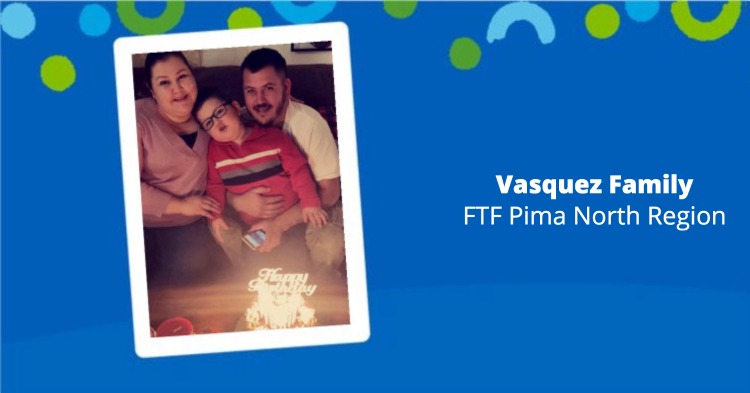 Maritza Vasquez expected her son's tantrums when he was 2. By age 3, when Manuel's tantrums became more frequent, she wanted help. 
"I wanted him to be prepared for when he entered preschool," said Vasquez. "I wanted him to learn about socializing. He was having many tantrums."
Vasquez enrolled in the Parents as Teachers Children with Special Needs program, funded by the First Things First Pima North Regional Partnership Council. 
The program provides a parent educator who visits the home to assess children for developmental milestones and delays. The parent educator also provides resources and teaches parents about healthy discipline, early childhood development and how to prepare their child for kindergarten. The program differs slightly from the regular Parents as Teachers program in that the parent educators are equipped to give greater support to children who are found to have moderate delays. 
"If children have a moderate delay, they often fall through the cracks," said Megan Wills, chief community programs officer for Easterseals Blake Foundation/Parents as Teachers. "When kids start elementary school with these unaddressed minor delays, it affects their performance and experience in school. The parent educators have the expertise to navigate systems and support families with resources to help these children, so they can catch up before they start kindergarten." 
Karla Hernandez, a parent educator, visited Vasquez at her home in Tucson and assessed Manuel using an Ages and Stages Questionnaire to find that he had a moderate delay in social-emotional and fine motor development. 
Hernandez started working with Vasquez on attachment with her son, using logical consequences for discipline and improving his nutrition. 
"We worked on him expressing his feelings," said Hernandez. "We asked him to tell mom when he was happy, sad or mad. Then he started asking mom how she was feeling." 
Vazquez said she saw his tantrums decrease and his social skills improve. 
"He is able to talk about his emotions and reflect on his behaviors," said Maritza Vasquez.
"He learned to follow instructions from other people other than mom and dad. We are having more positive interactions."
For developing his fine motor skills, Hernandez gave Vasquez activities to do at their home using scissors, coloring, holding pencils and crayons and tracing his name and shapes. Vasquez dedicated an hour every day to sitting down with Manuel to do fine motor activities. 
"We set goals for the entire family, including dad, who was also involved in joining in the activities," said Hernandez. 
They also started to introduce reading times with him to expand his vocabulary. 
"He is very interested in making crafts, doing different activities, and he loves reading," said Vasquez. 
In six months, Hernandez reassessed Manuel using the Ages and Stages Questionnaire and found he had caught up in his development. 
When it was time to go to preschool, Vazquez and her husband wanted Manuel to go to a Catholic preschool but couldn't afford the tuition. 
"The school did an assessment with him," said Hernandez. "He scored so well, he got a scholarship to go to the preschool there."
Now at age 4, Manuel is doing well in preschool and on his way to having a great start in kindergarten.