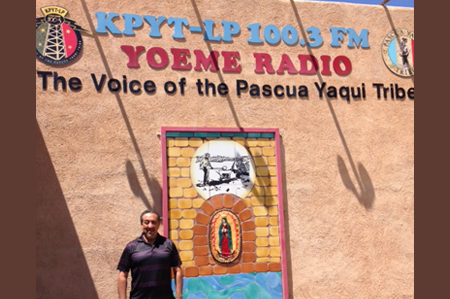 KPYT Radio Station has been selected as the 2018 Pascua Yaqui Tribal Region First Things First Champion for Young Children.
The award is given to local champions who actively volunteer their time to raise public awareness of the importance of early childhood development and health. Champions spend a significant amount of time volunteering with FTF and building public awareness about the importance of early childhood issues.
KPYT Radio Station engaged in awareness-raising efforts such as:
Having a presence at every holiday and tribal event, such as Ili Uusim Taewai/Children's Day or Earth Day Literacy Night that aims to support and celebrate every child residing on the Pascua Yaqui Tribal Reservation.
Inviting children living on the reservation to read a chapter from their favorite book live on the air, during February Love of Reading Week.
Continuing to serve as an ambassador for early childhood through its sharing of early childhood resources and encouraging tribal programs throughout the community to partner with First Things First. They have helped FTF be a trusted voice on early childhood throughout the reservation.
We recently caught up with Hector Youtsey of KPYT, who is the station's general manager.
Question: Why do you feel early childhood development and health is so important?
Answer: I believe it's important because it lays the foundation for our kid's personality and develops their character. It's those first five years that are crucial.
I believe you have to surround kids with safety, security and positive things because it teaches them to do positive things, for example eating healthy and getting enough sleep. If those things are laid down early enough it just prepares them to learn better once they enter into school and gets them ready to enter the world if they have those healthy skills established. They also need that positive feedback so that they can get their self-worth, and that's how you build their confidence to grow into well rounded adults.
Question: How do you suggest other people in your community get involved?
Answer: Parents need to get involved. They can do this by attending the Parent Teacher Association (PTA) meetings, dropping in in the classroom, being involved in their education and nutrition, but also being good examples. Members in the community need to show these children good habits through their lives and behavior. Also, getting contacting the social services department for information on how they can volunteer with foster programs, or just supporting programs like Make Way for Books or First Things First. And vote! Find out the legislators who support these programs and vote for them.