​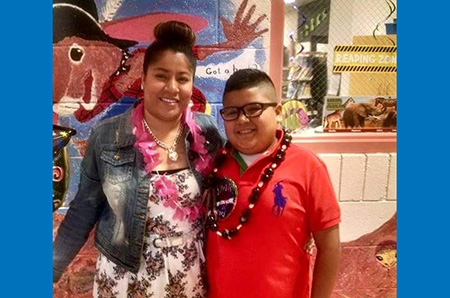 As Andrea Romero works her way through college, she looks at her son Isaiha for inspiration. "I was a young parent and had to work very hard to get where I am, and I wanted to show my son that anything is possible," Romero said. "It may be difficult, but anything is possible!" Romero, who received a First Things First College Scholarship in 2016 and is a member of the Pascua Yaqui Tribe, is working toward a bachelor's degree in early childhood education from Grand Canyon University. The FTF Pascua Yaqui Tribe Regional Partnership Council supports professional development opportunities for early childhood educators, including college scholarships.
For now, Romero is the library clerk for the Pascua Yaqui Library where she helps lead parent workshops, which teach how to make reading fun, how to increase children's vocabulary and raise awareness about the importance of reading to children from the day they are born. On Wednesdays, she facilitates Toddler Story Time for the children in the community, where she reads a story aloud and provides them with a free book and educational activities to do at home.
Working for the tribe has not only helped to instill a passion for early childhood education, but also helped in assuring the high quality education for young kids is also culturally relevant. Romero's dream is to one day open a high quality child care center that incorporates the Pascua Yaqui culture and language. Her goal to graduate in May 2019 means she will continue to work hard not only for herself, but for her family and the community.