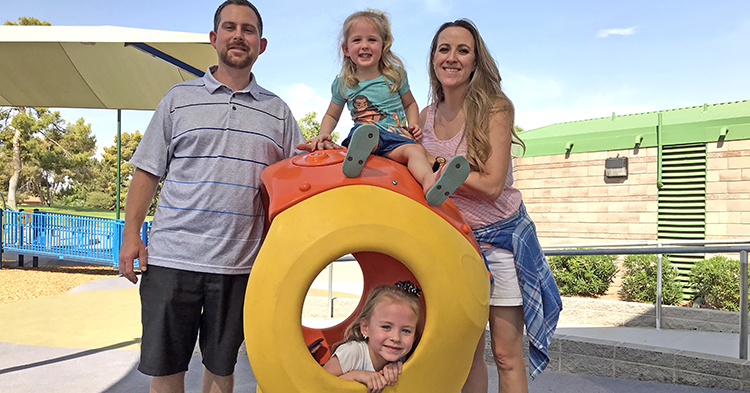 Since Allen Johnson and his wife, Maren, both work, they knew it was important to find the right child care for their daughter, Olivia. The parents wanted to be sure they found a center that was not only a safe, family-oriented environment, but also a place where 3-month-old Olivia could be happy and ultimately, find the motivation to develop skills that would prepare her for kindergarten.
Maren Johnson was referred to Playhouse, a home-based child care center in Mesa, which had a small family setting, a low number of children and a director passionate about early education and children.
Playhouse participates in Quality First, a signature program of First Things First that partners with child care and preschool providers to improve the quality of early learning. All Quality First centers or homes are committed to quality improvement, going beyond licensing requirements to help the infants, toddlers and preschoolers be ready for success in school and in life.
Johnson is grateful Olivia had a more individualized early education to prepare her for her next steps.
"I am so impressed with her level of comprehension in conversation and problem-solving skills," Johnson said. "She has learned how to work through disagreements, learned to take turns with games and has a sympathetic soul."
Johnson said that once Olivia started pre-kindergarten, she noticed that her daughter interacted well with other children, adapted easily to different environments, and excelled academically.
Olivia starts kindergarten this fall, and she is excelling at all the activities and academics needed for her first year, Johnson said.
The Marens were so pleased with Olivia's early learning experience at Playhouse that once their second daughter, Isabelle, was born, they enrolled her at Playhouse, too.
"The early years of development are critical for our daughters so that they are confident and independent in school," Johnson said. "Knowing that your children are in a safe place like Playhouse, while having fun with learning and developing skills that will take them further, gives peace of mind."