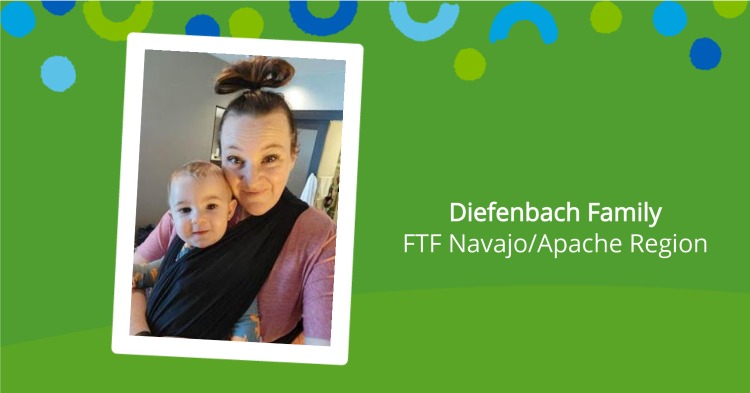 Amber Diefenbach gave birth to her son, Daxtyn, four months early in Taylor, Ariz. When she was finally able to bring him home, she knew she needed help. 
"So he had to be on oxygen for five months," said Diefenbach. "He also had a hole in his heart."
Diefenbach, who has three other children, connected to a local program to get support for her son. 
North Country Healthcare's HealthySteps program is for parents with children from birth to age. The program provides a specialist trained in child development that offers developmental, behavioral, social and emotional screenings and connects them to resources.
The First Things First Navajo/Apache Regional Partnership Council funds the program, which also gives parents guidance with feeding, behavior, sleep and other challenges. 
"HealthySteps provided assessments that encouraged and showed me how he's growing and reaching goals," Diefenbach said. 
Deborah Lewis, program manager and HealthySteps specialist, said the program provides in-home or clinic visits to parents to give them support to enhance the care they receive from medical professionals. 
"We try to meet some of the other needs that their provider can't," said Lewis. "We spend more time with the family to learn about them and where they may need support." 
After spending that initial visit with a family, a specialist will stay in touch with a family about immunizations, well-visit reminders or addressing other issues. 
"We try to reach out to them to make an appointment to come into our office. If the issue was breastfeeding or not knowing how to bathe their baby, we'd schedule a home visit," said Lewis. "We help educate parents on why their child needs to see the dentist and let them know our clinic is a one-stop-shop. We have dental services and other supports for finances, domestic violence or postpartum depression." 
For Diefenbach, they helped her get organized and keep Daxtyn's appointments with cardiologists and other specialists. 
"They helped me keep everything in order by giving me reminders for appointments as well as helping me to understand and keep track of information," said Amber Diefenbach. 
They also provided a car seat, baby gates, a pack-and-play and different types of formula. 
"Daxtyn is allergic to milk and has a sensitive stomach. They helped me to figure out how to help him eat," said Diefenbach. "They directed me to reach out to my doctor and gave me different formula samples to try with him. They also helped me to reach out to Arizona Supplemental Nutrition Program for Women, Infants and Children (WIC) to discuss my options."
As an experienced mother, Diefenbach found it difficult to know how to parent Daxtyn because he was born prematurely.  
"I tried to base my parenting on my other kids, but it wasn't working," said Diefenbach. "He's just now walking at 15 months. His developmental screens are teaching me where to engage him. They got him little toys to put in a cup to help his fine motor skills. They've been really supportive and encouraging that he'll catch up."
Diefenbach said the program has helped her have peace of mind and stay on track to help her son. She's seeing the benefits as Daxtyn continues to develop in a healthy way. 
"I want more people to take advantage of the program," said Diefenbach. "They are so helpful and find you the right resources."