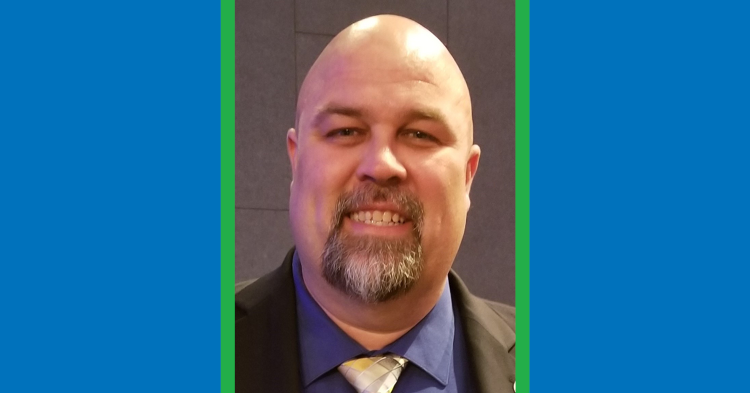 Pastor Travis Schroeder has been selected as the 2019 First Things First Navajo/Apache Region Champion for Young Children.
The award is given to local champions who actively volunteer their time to raise public awareness of the importance of early childhood development and health. Champions spend a significant amount of time volunteering with FTF and building public awareness about the importance of early childhood issues.
Pastor Schroeder was inspired to convene faith leaders, nonprofit leadership and early childhood educators at his church, Momentum Life, to share the importance of early childhood and motivate them to take action. Pastor Schroeder regularly requests early childhood materials, such as brochures where parent can document their baby's milestones, growth charts, books and bookmarks to share with parents and caregivers of young children at Momentum nursery and Momentum Kids Jr. classrooms at Momentum Life Church, in an effort to raise awareness about the importance of early childhood health and development. Once a month he invites all of the children to join the congregation for a celebration geared towards understanding the importance of early education and health. He also uses his voice to share how strong families are the building blocks of a strong society.
We recently caught up with Pastor Schroeder, who is the Senior Pastor at Momentum Life Church in Springerville.
Question: Why do you feel early childhood development and health is important?
Answer: After attending the First Things First training last year, I discovered that the things children learn during the first five years of their lives are vitally important to their future. I learned how the neurons in the brain build memories and character traits that will last a lifetime, and how one of the most important ways to raise a mentally healthy child, is to simply spend quality time in physical interaction with them. Holding them, talking to them, reading to them and playing with them does so much more than television can do. I found it amazing how at such a young age, children are being shaped into who they will be and learning how they will handle life as an adult.
Question: How do you suggest other people in your community get involved?
Answer: I believe, if we can get the information to key people, such as; parents, grandparents, teachers and other community leaders that work closely with young children, we can change the future for the better. The key is reaching out to people in a non-threatening environment. Many times, when an organization is considered part of the government, it scares some of the people who need the training the most. If our churches and other faith-based organizations will team up with groups like First Things First to offer training in an environment that is free of fear of judgment or ridged expectations, we can help build families that raise mentally healthy children. I have found that when a person is forced to do something, they will always push back. However, when presented with good information such as this training, parents and families can make well-informed decisions about how to best raise their children.