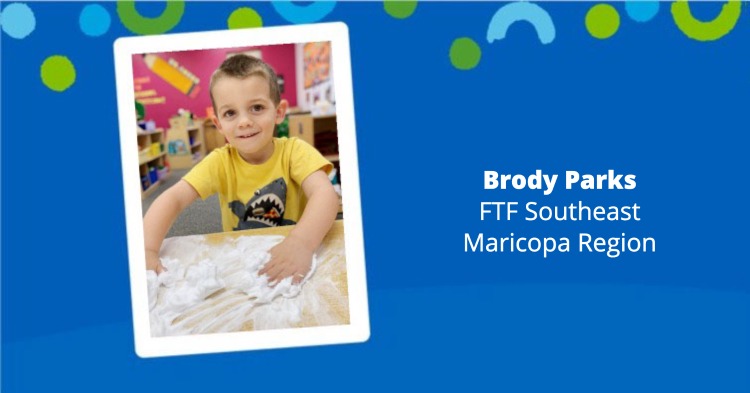 During infancy, Brody Parks started showing signs that he was behind. At 18 months old, his behavior spiraled because he had trouble communicating his feelings and became frustrated. 
By 4 years old, Brody was diagnosed with autism spectrum disorder with language delay and obsessive-compulsive disorder (OCD).
Lucy Parks, Brody's mom, knew about the importance of early education and how early brain development has a lasting impact on a child's ability to learn and succeed in school and life. She was a preschool teacher at A Child's Place at the Ranches Daycare and Preschool in Gilbert where Brody attended.
A Child's Place at the Ranches participates in the First Things First signature program, Quality First. The program works with child care centers and preschools across Arizona to improve early learning.
"I worked in early childhood education because 90% of brain growth happens before kindergarten," Parks said. "It's literally the most important thing, like the foundation of the house and the roots of the tree. And it's more than just meeting physical needs, emotional needs are important as well."
Parks said Brody's greatest problems were in public places and the classroom, where he struggled to play, interact and communicate with other children.
The Quality First team and teachers coordinated efforts to support Brody. Creating a consistent classroom routine helped regulate the OCD. For example, using a First and Then board allowed Brody's teacher to introduce a new activity in a way to help him understand and motivate him to complete it.
For example, the board had a card with the new activity, such as an art project as First, then an arrow point to Then and a card with a picture of toys.  First the new task and then the preferred activity. Strategies like, First and Then made expectations clear and simple. 
In circle time, it was difficult for Brody to sit. By allowing him to sit nearby with toys, he could still comprehend the discussion and participate. Brody was just learning and processing in a different way.
Parks said Brody was ready for kindergarten academically but still had some social and behavioral struggles. Without the extra assistance, he would have fallen further behind.
"It takes a village," Parks said.
"The support group – teachers, therapists, doctors, specialists, parents, family – worked together to give Brody tools and coping skills. And what he learned at school followed him home," Park said.
Brody was in a self-contained classroom in kindergarten, even though he already knew all his letters, sounds, shapes and even sign language. Today, he is in a regular first-grade classroom with pull-out resource services. He has achieved a lot of milestones, showing no regression and has friends now.
Parks credits the coordinated efforts for Brody's success. She talks with other parents about First Things First and Quality First and encourages all parents to ask for help when needed.
"Asking for help doesn't make you a bad parent. It makes you a better parent," Parks said.