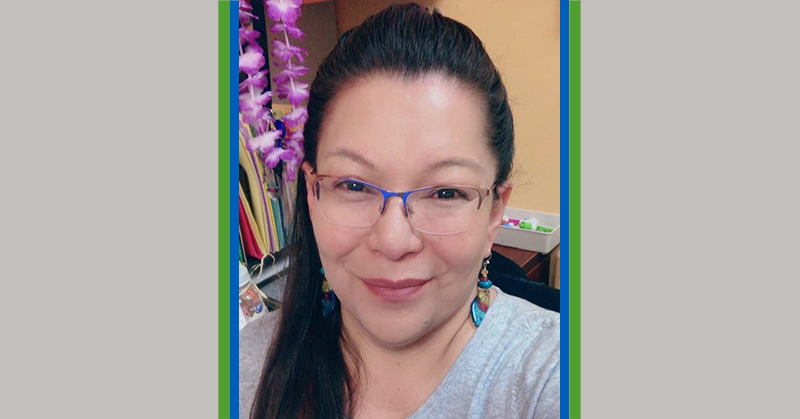 Faith Laurence-Leslie has been selected as the 2020 First Things First Navajo Nation Champion for Young Children.
The award is given to local champions who actively volunteer their time to raise public awareness of the importance of early childhood development and health. Champions spend a significant amount of time volunteering with FTF and building public awareness about the importance of early childhood issues.
Laurence-Leslie, a pediatric case manager at Tsehootsooi Medical Center (TMC), is an advocate for early childhood initiatives among other partner organizations, workplace, community and surrounding communities, such as the Navajo Nation Building Communities of Hope, TMC Week of the young Child and the Window Rock Unified School District.
She regularly shares the importance of early childhood with families with children birth to age 5 who visit the pediatric clinic for well-baby visits at the Tsehootsooi Medical Center in Fort Defiance. She also shares age-appropriate books, sponsored by FTF, with little ones who stop by the clinic and tells their parents to read with their child.
We recently caught up with Laurence-Leslie.
Question: Why do you feel early childhood development and health is important?
Answer: I believe that the early years of a child are the most crucial and most important in the development of who they will become in life. For a child to reach their full potential they need stimulation to challenge their thought process, good nutrition to fuel the brain and body, a trusting relationship with caregivers, and building resilience to face social fears in adulthood. It is essential to have early intervention programs to help families assist in their child's personal development.
Question: How do you suggest other people in your community get involved?
Answer: The health care, health care workers and community play such a huge role in the success of a child. Most children don't reach their full potential due to family income status, geographic location, disability and ethnicity. We (healthcare and community) have a great opportunity to see our Dine children reach their full potential.  With a commitment from Tsehootsooi Medical Center and the surrounding communities, we need to make our children the highest priority and help guide them to make healthy decisions. Our mission at Tsehootsooi Medical Center is "to provide superior and compassionate healthcare to our community by raising the level of health, Hozho, and quality of life" and I believe we are doing just that.