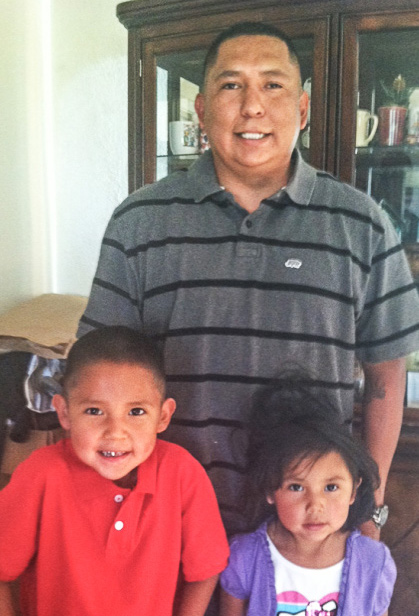 Duane works two jobs to provide for his family. But, he says his most important job is being a single father to Anaya, 4, and Myles, 6. And that includes learning everything he can about parenting.
A resident of Ganado, Duane was a participant in a home visitation program funded by the First Things First Navajo Nation Regional Council to help parents provide safe, nurturing home environments that support children's learning.
Home visitor Sharrisa Ben raved about this active, involved fath​​er. "He has his priorities straight and does everything!" she said. "He cooks, cleans, does the laundry, takes them to school and attends all of our family trainings."
Sharrisa helped Duane create a stable environment for Anaya and Myles, which is important when children have multiple caregivers. While Duane is working, the kids' paternal grandmother, Cecelia, cares for them. Both caregivers work as a team to constantly reinforce positive behavior, teach good manners and promote healthy eating.
Most importantly, they've created consistent routines for the kids at home. Cecelia said this has done wonders for Anaya's social and emotional development. Before, Anaya was a little shy when it came to talking to people or performing new tasks. Now, her grandma said, "She wants to be involved in everything and she's trusting of people."
Duane added his piece of advice for all fathers: "Don't be afraid to ask for help." He says there's a misconception that fathers don't need help, but he wouldn't have been able to do everything without the support of his family and the home visitation program.