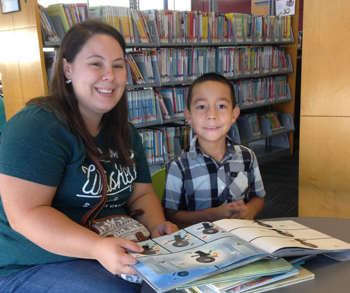 When Erica Sarmiento learned about Kindergarten Bootcamp, a Phoenix Public Library program funded by First Things First, she put it on the top of her to-do-list for her 4-year-old son Alex.
Despite her busy schedule as a parent of three, she recognized that preparing her son for kindergarten meant more than just filling his backpack.
"I saw that my child and I could have fun together while we learned," Sarmiento said. "You can add learning into every instance of your life, even grocery shopping. One hour a week is so worth what you take away from it."
Parents in the bootcamp attend seven one-hour sessions with their child.  The sessions are interactive, with songs, a letter of the day, story-time, and a learning activity to do at home.  While the children learn about shapes, colors, and letters, the parents are empowered in their role as the child's first teacher.
"A lot of parents are apprehensive about how to interact with a child, make it fun, and still be learning something," Sarmiento said.  "After being at bootcamp a few weeks you learn that learning is in everything we do. Going to the grocery and looking for the letter of the week or counting how many apples we are going to buy.  I just thought of shopping as shopping, not a learning experience. If you can get your child to love to learn in the ways that seem normal to them – like brushing your teeth –education won't seem so scary."
Because Alex is homeschooled, Sarmiento uses many of the tools and techniques she learned at the bootcamp to help him succeed.  When he needed help learning to count by twos, Sarmiento used a pepperoni pizza counting game she received through the program.  As Alex learned the sounds of each letter, Sarmiento reminded him of the alphabet sounds song they would sing at boot camp.
Two years after attending Kindergarten Bootcamp, Alex is still seeing benefits.
"My son continues to love school," she said. "He recognizes numbers and does extremely well in math, he still sings the alphabet song and he likes to craft things.  These were all things that bootcamp encouraged. He wakes up every morning ready for school and continues to be excited to learn."