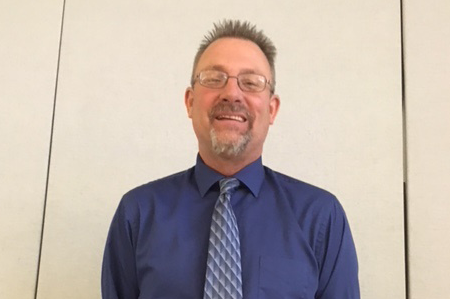 Dave Clark has been selected as the 2018 Navajo/Apache Region First Things First Champion for Young Children.
The award is given to local champions who actively volunteer their time to raise public awareness of the importance of early childhood development and health. Champions spend a significant amount of time volunteering with FTF and building public awareness about the importance of early childhood issues.
Clark engaged in awareness-raising efforts such as:
serving as an active member of the High Quality Early Childhood Educator's Partner group, where he is able to identify local resources for his staff to be better able to understand incoming kindergarten students' developmental status and needs.
sharing early childhood information with his elementary school staff during team leadership meetings.
displaying FTF's Help Them Get There posters, which promote the awareness of quality early learning. importance of prominently displayed throughout the Elementary School.
sharing early childhood information for parents and families in school office where parents sign-in.
We recently caught up with Clark, who is the principal at Blue Ridge Elementary School.
Question: Why do you feel early childhood development and health is so important?
Answer: Foundational levels are critical.  As a principal, when foundations aren't there, by pre-kindergarten and kindergarten, there are issues in the ability to function and succeed in school.  Socially and academically – both are tied together. When a student starts behind, they usually stay behind. For this reason, we are developing what we are calling our Foundations Program. This approach will partner older elementary kids and support staff with younger students, to support greater social emotional functioning for our students. This program will be school wide, and will ultimately trickle down to the preschool program that I want to have on campus.
Question: How do you suggest other people in your community get involved?
Answer: I think that all members of the community need to start by finding ways to volunteer at their local schools. There is a portion of the community that doesn't really know about the challenges that our students face every day. More kids are coming hungry. Free and reduced meals is now 57 percent district wide, and the percentage of eligible families has increased significantly over the past seven years. Many grandparents and extended family members are raising young children and there are many foster children in our school.
Through volunteering, community members would have a better understanding of the importance of early childhood development and health. They would see the struggles kids face when they come to school without a solid developmental foundation. Stronger partnerships need to be developed between elementary schools and the community resources and assets that exist.  Parents could benefit from the resources and tools available through First Things First and their partners, to help educate them about the importance of early childhood development and health.