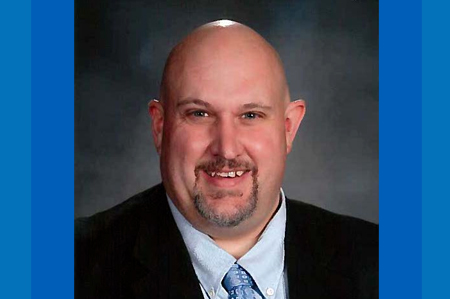 Clay Stidham Jr. has been selected as the 2017 Navajo/Apache First Things First Champion for Young Children.
The award is given to local champions who actively volunteer their time to raise public awareness of the importance of early childhood development and health. Champions spend a significant amount of time volunteering with FTF and building public awareness about the importance of early childhood issues.
Stidham engaged in awareness-raising efforts such as:
Sharing early childhood education materials with school district staff.
Hosting early childhood events for numerous early childhood educators throughout the Navajo/Apache Region.
Being an active member of the Navajo/Apache High Quality Early Childhood Education Partner Group.
We recently caught up with Stidham, who is director of curriculum, instruction, assessment and federal programs for the Blue Ridge Unified School District.
Question: Why do you feel early childhood development and health is so important?
Answer: In the past few years I have had the opportunity to learn much more about the critical importance of early childhood brain development and the interplay between physiology and social-emotional well-being. The field of cognitive neuroscience is truly transforming our understanding of how human brains work.
Advances in technology, especially in regards to understanding how the brain works have reinforced some of our previous understandings of best practices in education, while also raising the need to completely overhaul others. This is particularly important when we look at early childhood education. The new insights in neuroscience have shown us that there are "critical periods" of development in which the brain experiences extensive neural growth.   During these periods we are actually able to influence the growth of more brain cells and stronger permanent connections essential for later cognitive development. This understanding dramatically changes a long held belief that people were born with all of the brain cells that they were going to have for the rest of their lives. Unfortunately, the earliest 'critical period' occurs from Birth to 5, and, as a society, we have not evolved comprehensive systems to capitalize on this essential phase of development.
Q: What caused you to get involved in efforts to increase public awareness in early childhood issues?
Answer: I spent the majority of my educational years as a teacher and administrator in junior high and high school environments, so the world of early childhood/elementary school education has been largely foreign to me. Interactions with Diana Butler, who was my Grades 4-6 principal as a student, and more recently my colleague on the administrative team at Blue Ridge, conversations with Kate Dobler-Allen, John Jarchow and the Three Rivers Project, Blue Ridge Elementary School Principal Dave Clark, and trainings and workshops provided by First Things First and Dr. Isela Garcia with the Alesi Group; I have learned so much in such a short period of time related to the essential mission and long term impact of early childhood education on both the individual and larger society. The impact of the Navajo-Apache County High Quality Early Childhood Education regional/community consortium has played a major role in the coordination of these opportunities.
Q: Why do you feel building awareness in early childhood and developmental health is so important for families and communities?
Answer: Through these new lenses of understanding, I have been able to reflect on my experiences in the junior high and high school level. I have concluded that many of the problems and challenges that I saw in my classroom and school communities at the secondary level were primarily a result of negative experiences in school and life prior to my opportunity to work to make a positive impact and share a value for learning. Many of my students had learned systemically that they were 'less than," "not smart," "not good" and had developed a calloused defensive nature towards school.
I am increasingly convinced that re-imagining how we, as a society, address early childhood education is the key to turning the tide. If we can take strides to "level" the birth to 5 'playing field', and transform our elementary schools into places that students are excited to attend, we can take great strides at eliminating negative self-perceptions and toxic social-emotional interactions.
Q: How have you seen awareness for the early years change in your community?
Answer: I believe that we are truly in the early stages of development in regards to awareness. We all love our children, and we all do our best for our children, but I don't believe that there is a broad understanding of just how critical early childhood education is.
Through the efforts of the High Quality Early Childhood Education Consortium, First Things First, Three Rivers, and the Alesi Group, I believe that significant traction and progress is being made to raise awareness and facilitate change. I believe it is critical, in our rural communities, for our Pre-K/Head Start, child care providers, health and wellness entities, and public schools to lead the charge for change. We must educate our communities while transforming our practice. We have the best communication tools in the world to do this in our classrooms; our students. But it is imperative that we take action on these important community based efforts and actually apply our new understandings throughout the community. It is a great challenge, but also an essential opportunity.
Q: How do you suggest other people in your community get involved?
Answer: The easiest way to get involved is to get involved. That is an oversimplification, but I believe that we need to take action wherever and however we can. One of the best ways to get involved starts with simply being informed. Collective mental engagement within a community is transformative. When members of a community engage in learning about learning, developing a better understanding of how the brain works, learning about social-emotional health and positive well-being, and working to get out of the focus of today and thinking about these implications for the future…looking at trends, seeking to better understand technology, its benefits, risks, and seeking to understand those impacts on society; that too is huge. That investment in relevant learning becomes water cooler and grocery store conversation.