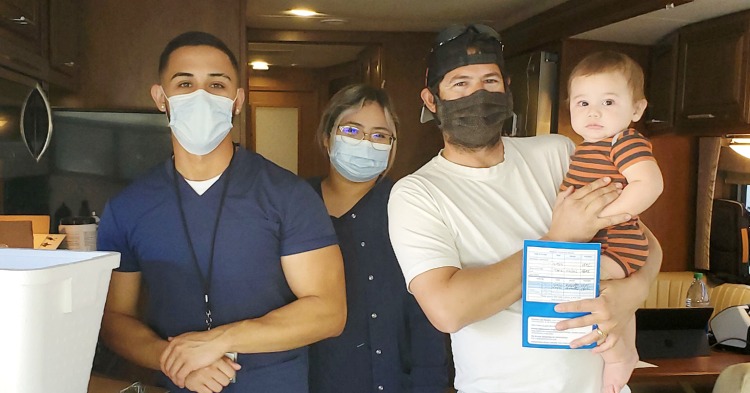 The scramble to catch up on missed childhood immunizations, especially for those children who will start kindergarten in the fall, has led to plans for several mobile, pop-up immunization events in northwest Arizona over the next few months.
First Thing First has partnered with organizations including The Arizona Partnership for Immunization, Havasu Community Health Foundation, the Lake Havasu City Unified School District, the Greater Phoenix Urban League, Regional Center for Border Health, Health Choice, Care1st, North Country Health Care, Bullhead Elementary Unified School District, Kingman Unified School District and Arizona Health Care Cost Containment System (AHCCCS) to increase childhood immunizations in one of the highest areas of need in the state.
"The FTF La Paz/Mohave Region has become a childhood vaccination desert," said FTF Senior Director for Children's Health Vincent Torres. The area combines La Paz and Mohave counties and covers about 16,700 square miles, with its northern end separated from the rest by the Grand Canyon.
Several factors have contributed to challenges in the area, including family hesitancy around immunizations and health providers who are unable to offer childhood immunizations because the cost of storing them is so expensive, Torres said. Then, when local health departments were redirected to administer the COVID-19 vaccination earlier this year, it caused them to stop providing childhood vaccinations altogether.
Keeping babies, toddlers and preschoolers on track for their immunizations is important because young children aren't protected yet from many preventable diseases such as measles, mumps, rubella and whooping cough.
In Lake Havasu City, more than 300 school-age children have been identified by local schools as needing at least one of the series of childhood immunizations, said FTF La Paz/Mohave Regional Director Vijette Saari.
The mobile immunization clinics were planned in coordination with the Mohave County Health Department to help families catch up after many fell behind as a result of the pandemic, Saari said. Other immunization efforts are being planned in Kingman and Bullhead City over the next few months. At the most recent clinic, 57 children were immunized, and many received multiple vaccinations to get them back on schedule.
The clinics in the FTF La Paz/Mohave Region are modeled after recent pop-up immunization clinics held in Phoenix's Maryvale and Laveen communities. And eventually, the partners' goal is to see these types of large, community-based immunization events replicated in communities of need across Arizona.
"Children falling behind on their immunizations is something that isn't going away soon," Torres said.
The success of helping families understand the importance of getting their children vaccinated lies in a partnership with local organizations, who are the trusted sources in a community, and with philanthropic supporters, whose focus is to get children caught up on their immunizations.
"The state and local partnership here is phenomenal," Torres said.
The partnerships are building a network to span an entire section of the state, where eventually community organizations will be able to take over and host immunization events as needed and still be able to tap greater resources.
"We are helping areas get off the ground, moving and mobilized," Torres said. "We help them figure out the logistics, social distancing, ordering the vaccine, operationalizing the events and eventually they'll continue on within the community."