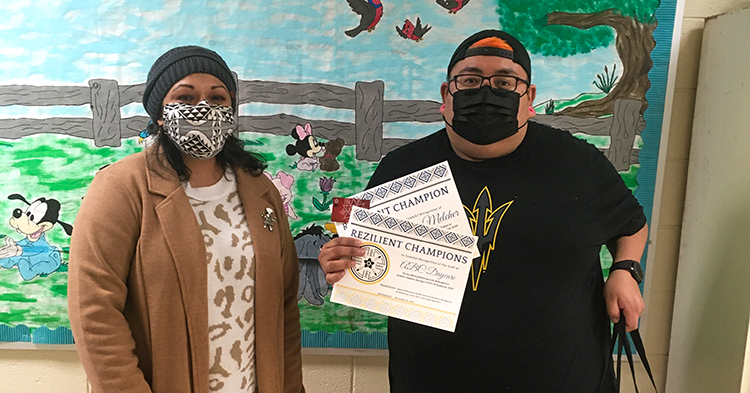 During a challenging time, the staff at Our Children's Shelter and Alchesay Beginnings Child Development Center (ABC) have something to celebrate.
The shelter and child care center, which are located in the First Things First White Mountain Apache Tribe Region, were recently named Rezilient Champions for White Mountain Apache Children. They were recognized for providing above-and-beyond services to the children on the Fort Apache Indian Reservation during the COVID-19 pandemic.
A group of health organizations honored ABC and the shelter by providing staff members gifts cards and honor certificates at a celebratory event this month. The health organizations were: Apache Behavioral Health Services Rezilient Team, Indian Health Services Whiteriver Service Unit Pediatric Integrated Care Collaborative (PICC) Team and Johns Hopkins University Bloomberg School of Public Health.
The FTF White Mountain Apache Tribe Regional Partnership Council joined in honoring the two organizations by providing books for young children and FTF onesies to distribute to the babies.
"One of the priorities for our regional partnership council is to support the behavioral health of our community's youngest children," said FTF White Mountain Apache Tribe Regional Director Feather Sprengler. "And the staff at these two organizations have been exemplary at working through unprecedented conditions and helping to maintain as much normalcy as possible for the children in their care. It's wonderful to see their work highlighted."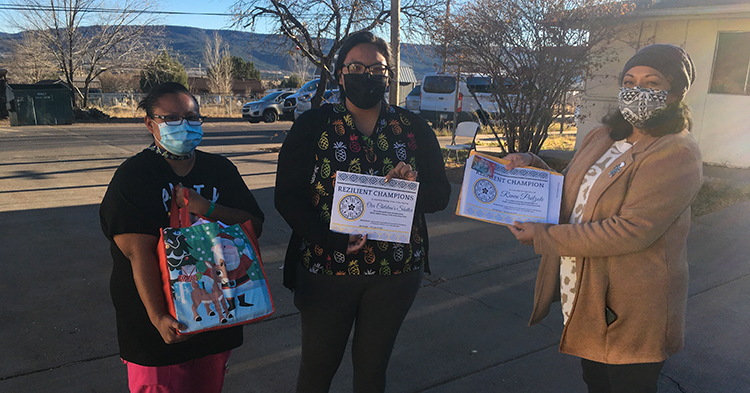 Here's what the nomination said about the organizations:
"Our Children's Shelter currently houses 13-16 children who are placed there based on removal from their families due to child protective concerns. During the pandemic, a staff member volunteered to quarantine with a child resident who tested positive for COVID-19. The staff have exemplified selflessness while working through the pandemic, covering for one another and keeping the shelter fully operating. We recognize and applaud the staff at Our Children's Shelter for their dedication to the most vulnerable children of the White Mountain Apache Tribe, and their efforts to work above and beyond expectations."
"ABC Daycare (Whiteriver Unified School District) staff have continued to care for the children of essential workers through the stay-at-home orders, and is currently the only daycare center that is open during the pandemic on the Fort Apache Indian Reservation. We recognize and appreciate the critical lengths ABC Daycare has taken to ensure the health and safety of the children during uncertain and unprecedented times, while continuing to offer high-quality early childhood education and childcare services to the children of essential workers." 
In addition, the nomination organizations said, "We wish we could do more to show our sincere gratitude for the staff at Our Children's Shelter and ABC Daycare. This is just a small token of our tremendous gratitude for their dedication to the children of the Fort Apache Indian Reservation during the COVID-19 pandemic. Ahe'ye'e – Thank you!"