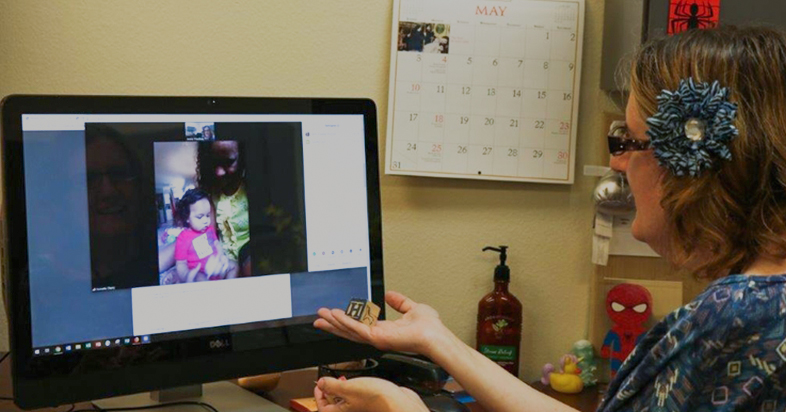 Since the coronavirus pandemic began, technology has become nearly essential to stay in contact with friends and family. For many who work with young children, technology has also offered an alternative way to provide those families resources and support.
First Things First, Arizona's early childhood agency, funds early learning and family support programs across the state. Many of those programs have adjusted the way they work with families to continue to provide services during this challenging time. For example, parenting classes have gone online, and providers are connecting more with families by phone or text. Libraries are hosting live story time through online video chat, while parents watch alongside their child and ask their child questions or react to the story.
Many family resource centers in the FTF Family Resource Network in Maricopa County switched to virtual programs. In Chandler, the Chandler CARE Center, which is part of the network, transitioned to online and virtual programs in March, providing parent education, preschool science, story time, and more via social media channels.
In order to supplement online options, center staff also provided contactless material and book pick up events for families. Through this option, parents receive a craft and activity kit with materials they use to participate in the activities that have been posted online by staff.
At AZCEND family resource center, also in Chandler, the early literacy program has been meeting with families virtually via Zoom. Outreach events along with diaper and family resource distributions are safely being provided to families in a drive-thru format.
In the FTF San Carlos Apache Region, the Dolly Parton Imagination Library program began offering virtual story times through Facebook to continue serving children and families. Virtual interaction with the program coordinator through the Gila County Library District's Facebook page connects families to sign up for the book mailing program. 
FTF also funds the University of Arizona Cooperative Extension nutrition, obesity and physical activity program in the San Carlos Apache region. Instruction specialists follow tribal emergency procedures and regulations to deliver programs to children and families via online video chat, prerecorded videos and resource packages to promote education services. Training for child care providers is offered through online video chat.
In some parts of Arizona, developmental screenings, which are critical for identifying developmental delays in babies, toddlers and preschoolers, are also being conducted through online video chat.
FTF funds the University of Arizona Cooperative Extension free virtual developmental screenings in Pinal and Gila counties and the San Carlos Apache Tribe. Screeners use an online video chat program to walk the parent or caregiver through a questionnaire, which is designed to look for developmental delays in children before they enter kindergarten.
Earlier this year, the Birth to Five Helpline, a statewide helpline that is partially funded by FTF, started offering parents and caregivers the opportunity to meet face-to-face over online video chat to answer questions.
The helpline is a free service for all Arizona parents or caregivers to call, text or email with questions about their young child's development. The helpline can also offer families connections to local resources and supports.
The Birth to Five Helpline is available at 1-877-705-KIDS (5437) from Monday through Friday, 8 a.m. to 8 p.m. You can also leave a voicemail, submit your question online, or text the Helpline 24 hours a day, seven days a week.
FTF also funds home visitation, which provides a trained parent educator who makes in-home visits and offers personalized support families with children birth to age 5. Those visits are now conducted online. For example, in northern Arizona, parent educators working with the Hopi Tribe now leave a box of supplies and resources for the participating families at their door then drive back to their office to conduct a home visit virtually or by phone with the family.
Families have adjusted, but the Group Connections, which are a staple of the home visitation program and bring together multiple families, is where the team got creative, said Alyssa Fredericks, a parent educator.
"Our Group Connection for May was for families to make Jell-O Jigglers and share some photos about the process," she said. "It turned out to be a very successful activity as parents shared their stories with pictures."
Through all of the changes and as families have to adapt in so many ways during the pandemic, providers say it is important to maintain a sense of normalcy for families.
"We choose items that can be in many people's homes," Fredericks said. "It helps our parents as they spend more time being their child's teacher."
For information about the FTF-funded early childhood programs and services that are available in your community, visit FirstThingsFirst.org and select Find Programs.