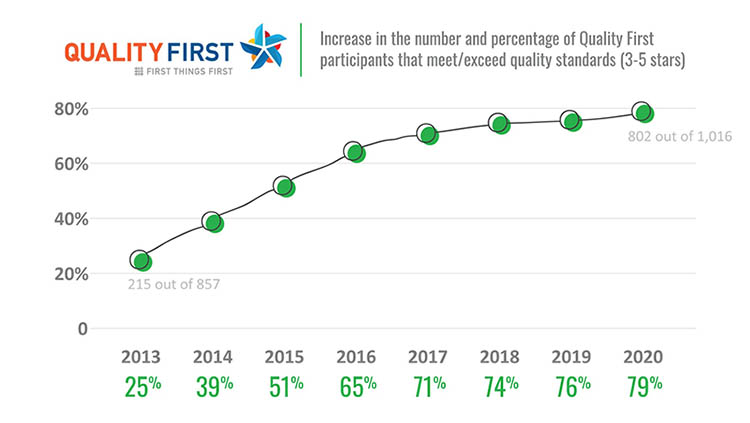 The number of Quality First child care centers and preschool programs meeting or exceeding standards is at an all-time high. Almost 80% of more than 1,000 participants have achieved a 3-, 4- or 5-star rating, with 5-star the highest rating possible.
The Quality First program partners with more than 1,000 child care centers, home-based care and preschool providers across Arizona to improve the quality of early learning. This First Thing First program funds improvements that research proves help children thrive, such as training for teachers to expand their skills working with young children.
When programs were first rated in 2013, 25% of 857 participating rated providers met or exceeded quality standards (3-5 star rated). Over the past seven years, both enrollment and quality levels have improved among providers participating in Quality First.
In 2020, 79% of 1,016 participating rated providers met or exceeded quality standards. This means that in State Fiscal Year 2020, which covered July 2019 through June 2020, a total of 45,822 children in Arizona attended high-quality early learning programs. The number of children with access to quality early learning as a result of Quality First has almost doubled since 2013.
The need for quality child care has become more apparent as Arizona, along with the nation, grapples with the coronavirus pandemic. Even though many child care centers, including in-home providers, have reopened, they are likely operating with fewer children and higher demands for implementing safety and social distancing guidelines.
FTF has continued to support Arizona's early child care industry through a variety of ways during the pandemic. This includes continued funding of Quality First scholarships to providers, even if the center is temporarily closed or is caring for a reduced number of children.
In addition, the FTF Child Care Health Consultation Program developed a COVID-19 guidance document, which is designed for child care providers to be simple to read and implement.  The document, Recommendations for Safe Child Care Operations during COVID-19,  is available in English and Spanish and can be found on the Quality First website by selecting Providers. 
Families looking for a Quality First center, home or preschool can use the online search tool on the Quality First website, QualityFirstAZ.com to find participants in their area.