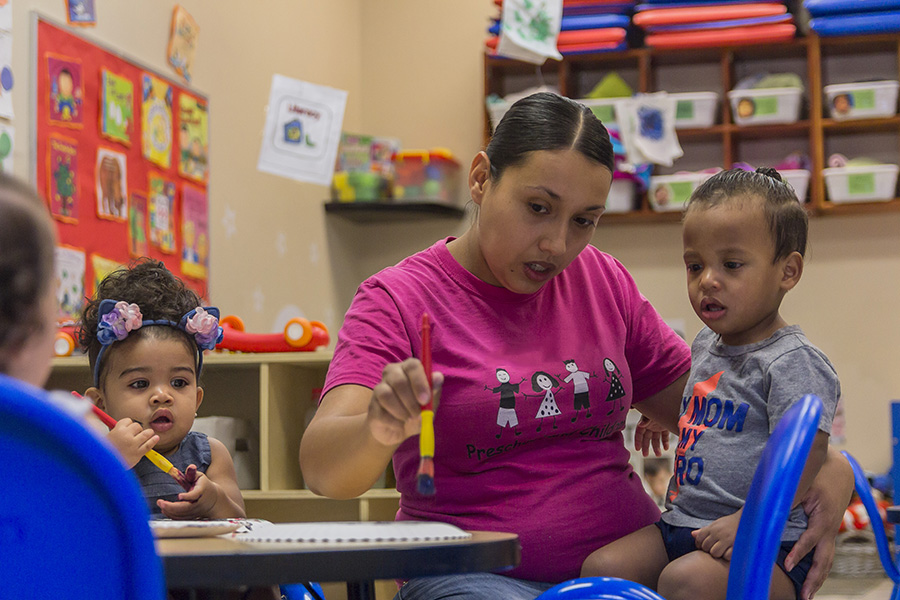 The number of child care and preschool programs that participate in Quality First — Arizona's quality improvement and rating system for early learning programs — that meet or exceed quality standards has reached 76%. The percentage is an all-time high, which has risen steadily since 2013.
Also, the number of Quality First participants in Arizona achieving 3- to 5-star ratings more than tripled, starting with 215 participants in 2013 to 788 in 2019.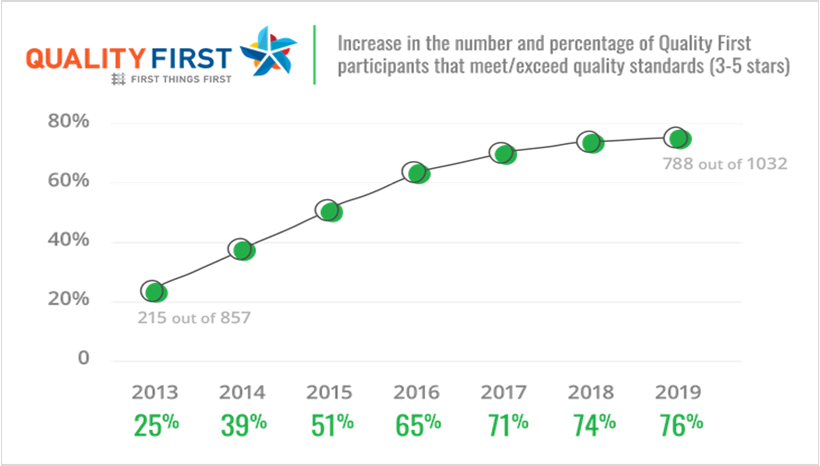 The rising quality levels are easy to see in FTF regions, like Pinal, where the Quality First participating child care providers meeting or exceeding quality standards has almost doubled in the past two years. The percentage of FTF Pinal Region's Quality First sites with 3- to 5-stars increased from 35% in June 2017 to 69% in June 2019.
Michelle Golus, statewide director of FTF's Quality First program, said coordinated goals between child care program directors of both center and home-based, and Quality First support staff are expediting growth toward higher quality levels. In State Fiscal Year 2019, more than 62,000 babies, toddlers and preschoolers received their early education from child care and preschool providers in Quality First and more than 45,000 of those children were in a program with 3- to 5-stars.
"What we are seeing is a result of consistent support from our coaching and technical assistance staff," Golus said. "As relationships build between coaches, technical assistance staff and child care providers, shared goal setting takes place and with it, this consistent growth over time."
The Quality First program partners with more than 1,000 child care centers, home-based care and preschool providers across Arizona to improve the quality of early learning. Quality First funds improvements that research proves help children thrive, such as training for teachers to expand their skills and achieve their best.
You might be interested in: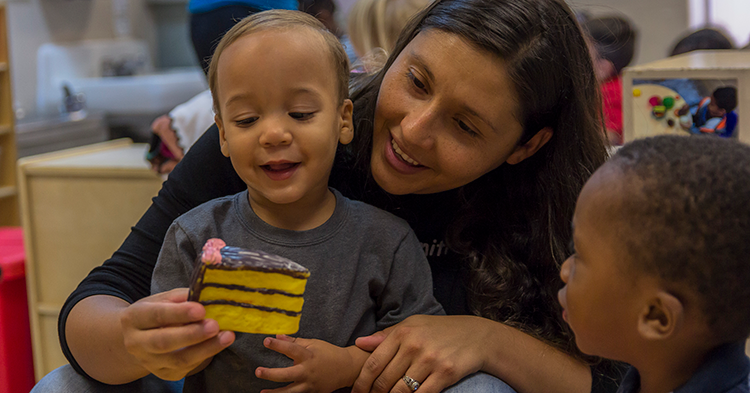 "Quality improvement takes time," Golus said.
After about two years of Quality First support — such as coaching, assessments, professional development and incentives — participating early learning programs are rated on a scale of 1-5 stars, according to Quality First's rigorous standards for quality.
In Pinal County, Quality First and local advocates are helping to expand the understanding of best practices in early childhood education in parts of the county that can sometimes be isolating, said FTF Pinal Regional Director Shannon Brown.
"We are in a child care desert," Brown said. "Child care centers can be isolated and don't communicate with each other. Quality First really helps centers with one-on-one support."
FTF Pinal Regional Council Member Kameron Bachert, who is the child care representative, has also worked to get centers to see themselves as a community supporting each other rather than businesses competing, Brown said.
"When the centers start talking and sharing best practices, they learn in a totally new way and growth happens," Brown said.
Over the past 10 years, Quality First continues to gain recognition in the child care field and more programs are seeking to improve.
"There is a little bit of peer pressure going on now," said Courtney King, Quality First program coordinator. "It spurs others to start inquiring into and using best practices, since they are all marketing to the same families. It forces them to look at their own quality care."
Even providers waiting to join Quality First are starting to implement best practices, King said.
"I think the field as a whole is elevating," she said. "When we started in 2010 and 2011, everyone came in at lower levels of quality. Now we have centers coming in at higher levels."