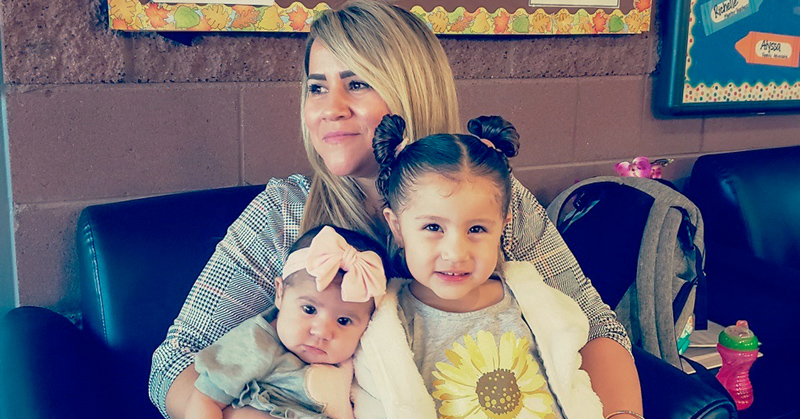 A child care center in the Gila River Indian Community recently achieved a 5-star rating through Arizona's First Things First Quality First program. The rating is the highest available and a first for a center located in a tribal region.
"We started in 2009 and have worked toward a 5-star rating since that time," said Ame Edwards, Early Education Child Care Center's (EECC) assistant manager. "When we found out we got the rating, we were totally beside ourselves."
FTF's Quality First program partners with child care and preschool providers across Arizona to improve the quality of early learning. Quality First funds quality improvements that research proves help children thrive, such as training for teachers to expand their skills and to help create learning environments that nurture the emotional, social and academic development of every child.
"We are excited for them," said Michelle Golus, statewide director of FTF's Quality First program. "They are an example for other Quality First centers that it's possible to be successful and achieve the highest level rating in Quality First while staying true to your program's identity and values."
Every one to two years, centers participating in Quality First are assessed and rated in areas of environment, interactions, staff qualifications, curriculum and child assessment and teacher-child ratios. For the last four years, the EECC in Sacaton remained at a 4-star rating.
"We were looking for more staff to have college credits and degrees in early childhood education for a 5-star rating," said Courtney King, Quality First program coordinator. "This time, they met that requirement while maintaining all of their classroom practices and achieved the highest rating."
The EECC was one of the first centers chosen to participate in Quality First when the program began in 2009. King, who has worked with Quality First for 10 years, said she's observed them succeed because of several factors.
"First, they've worked with coaches to create quality improvement plans and then strove to reach those goals collectively," said King. "They've been open to using the supports. They've asked and received advice with the understanding that growth sometimes takes change. They've hit some roadblocks and used those blocks as teaching moments. They created a vision for how it could be different, instead of letting those stumbling blocks hold them back for forever."
Another important factor was creating a unified vision among the center's staff. The large center has 120 children enrolled and 31 staff members, serving children 6-weeks-old to 5 years old, but they were able to consistently work toward the goal of high-quality care.
"We randomly select classrooms to assess, so every classroom needs to be prepared," said King. "The center is able to keep quality care at a high level in each classroom, because the communication between leadership and staff is excellent."
Edwards praised the advice and counsel that the center's staff received from the Quality First coaches.
"We had really terrific coaches," she said. "They showed us how to do things differently, and then we started focusing on having a really good quality program for the kids, parents and community. We wanted parents to feel good about leaving their children with us."
Parent Angelina Ramirez has been pleased with the care her two daughters have received. She enrolled her first daughter at the center when baby Jewel was 7 months old.
"Her motor skills weren't developed," Ramirez said. "She flopped and didn't hold her head up. Her teachers worked with her on motor activities, like counting and scooping."
Jewel started to develop at a fast rate and performing above average. Now 2, Jewel has a vocabulary of almost 100 words, knows the alphabet and can count to 10. She's also developed social skills to interact well with her teachers and other children.
When Ramirez had her second daughter, Ella, she enrolled soon after. Ramirez said Ella is now 3 months old and receiving wonderful care.
"Ella needs comfort, embracing and holding. They do that," said Ramirez. "They hold the children like they were their own. They cradle and rock and sing to them, everything a mother would do."
The Quality First teachers are trained to be attuned to each child's needs. Ramirez said she's seen that in the way they treat her children.
"Jewel's teachers really work with her one-on-one," Ramirez said. "She's also in her terrible twos, so they discipline her right away by having her take a seat next to the teacher. She's learning to say 'thank you' or apologize. She loves going there because she's treated with respect, and she is learning."
The FTF Gila River Indian Community Regional Partnership Council funds Quality First, along with Quality First scholarships to help eligible families afford to send their child to quality child care centers and preschools.
"The regional partnership council members really want to support Quality First and continue to build on this success," said Josh Billison, FTF Gila River Indian Community regional director. "They are very happy for the community to have such an excellent child care facility for the region and appreciate the work the EECC has done to reach this rating."