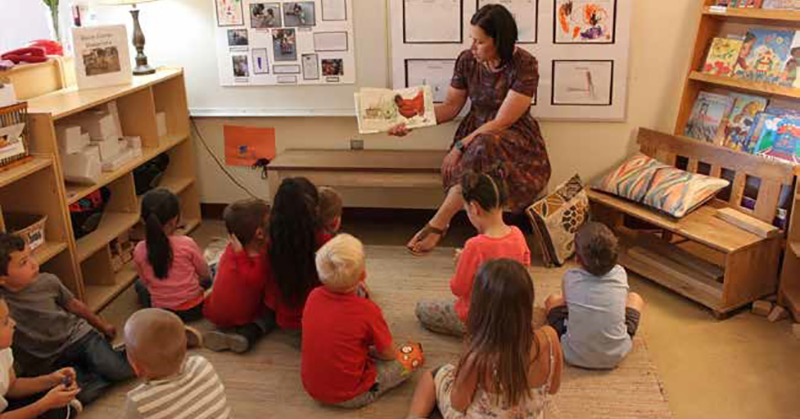 Editor's note:
Since 2009, First Things First has funded Great Expectations for Teachers, Children, and Families— providing early childhood educators with in-depth professional development that allows them to earn college credit and work toward degrees in early childhood. The United Way of Tucson and Southern Arizona administers the program that provides early childhood teachers, principals and administrators access to professional development that improves their knowledge of the development and learning of children birth to age 5. Today, there are 17 Communities of Practice, with a total of 720 students enrolled in the college classes across Pima County.
Over the next few weeks, we'll be sharing stories from some of the early childhood professionals who have benefited from the Great Expectations program. You'll hear firsthand how the program helped them elevate their teaching while earning college degrees in early childhood education.
---
Alexandra Irizarry
Alexandra Irizarry was finishing up her associate degree in early childhood studies at Pima Community College and working full-time as a preschool teacher in the Vail Unified School District when she became ill.
Weeks of uncertainty and pain were followed by surgery.
Through grit and support from family, school, colleagues and her Great Expectations Early Learning Connections Community of Practice, Irizarry received her diploma a few months later and walked at graduation.
"My family was there cheering me on," recalled this married mother of two teenage girls. "I felt such a sense of accomplishment."
Becoming a better teacher
One of Irizarry's support systems came through a professional development program funded by First Things First. The United Way of Tucson and Southern Arizona's Great Expectations for Teachers, Children, Families, works in partnership with the Vail Unified School District, among others, to strengthen knowledge among teachers and elementary school principals around developmentally appropriate practices and how young children learn.
Members of the Early Learning Community of Practice also meet with elementary principals for collaborative sessions and discussion about the transition to kindergarten for preschool children.
"We get a book every month that provides insight and ideas to educators and we discuss best practices," Irizarry said.
Many of the issues tackled revolve around behavior.
"We talk a lot about getting to know what kind of stresses the children are going through at home and what we can do to make it a new day for them, to help mitigate toxicity," she said.
Irizarry said being a member of Early Learning Connections helps her to be a better teacher.
"Everything is interconnected," she said. "What you learn, you can apply to your school assignments and in your classroom."
While Irizarry was thrilled to complete her associate degree, she's not done.
"Once I'm stronger in terms of my health, I plan to return for my bachelor's degree in early childhood education," she said.  "I love all ages and stages, but there is something so special about very young children."
Irizarry is an early childhood specialist at the Cottonwood Community Programs preschool. She has taught preschool in the Vail Community Programs, southeast of Tucson, where she started as an afterschool a teacher's helper at Ocotillo Ridge Elementary School in 2013.
"When I first started in early childhood education, I didn't know that this was my passion," she said. "The more I learned, the more I realized that this is the place I want to be."
On an average day, Irizarry cares for as many as 26 children between the ages of 3 and 5. A favorite time of day is spent outdoors on the cheerful playground, with children swinging, sliding and discovering.
"I love children of all ages, but there's something about early childhood that is so important and beautiful," Irizarry said. "We can make such an impact during these years. We can help shape them as people."
Taking a brain break
On the playground, Irizarry joins a small group of children who have spotted a praying mantis.
"I think he likes it when we are gentle with him," Irizarry told the children, who carefully admired the insect's lanky structure.
After more play, the children headed back inside, where they were greeted with soft music, scented essential oils and gentle lighting.
It's time for a "brain break." The children sat peacefully on the classroom rug, eyes closed. Irizarry guided them through breathing exercises to clear the mind. Then a favorite book, "The Little Red Hen," by Paul Galdone.
"Once upon a time, a cat and a dog and a mouse and a little red hen all lived together in a cozy little house," Irizarry reads to the children, who listened intently.
"You guys are really focusing on the book," she said with a smile.
Pima was a great fit
Irizarry received her Child Development Associate (CDA) credential in 2014 and knew that if she wanted to advance as a teacher, she needed a degree. School leadership encouraged her to enroll in Pima.
"I was terrified of going back to school," Irizarry said. "I worried about being able to keep up with work and family life. I was worried about missing out on time with my own children."
She took a deep breath and enrolled. Making the journey possible was a scholarship for tuition and books from First Things First.
She found Pima to be a great fit.
"The classes were easily accessible, and if I had a question, I could always find the professors," Irizarry said. "It was a great environment."
Her biggest challenge came at the start of her final semester when she became sick.
"I didn't think I would graduate," she said.
For a couple of months, doctors did not know what was making her sick. "I was so stressed, and I think it was caused by stress. I ended up in the emergency room three times," she said.
Irizarry was later diagnosed with Epstein-Barr virus, which left her exhausted. Additional unrelated pain was caused by gallbladder disease, and she had surgery to remove her gallbladder in March 2019.
Through it all, Irizarry managed to keep teaching, stay in school and take part in monthly Early Learning Connections Community of Practice meetings.
"I would work two hours in the morning and come home because I was in pain," she said. "I was having complications and was exhausted. I'm lucky because I have such a supportive team. On those days I had to go home, they would say, 'We've got this. Go home, get better. Go to your doctor appointment.'"
Community of Practice members also provided support and encouragement as she tried to keep up with work during her illness. Despite exhaustion and an abundance of commitments, Irizarry crossed the finish line.
In addition to learning more about developmentally appropriate practice, Irizarry said she appreciates the leadership training she receives through Early Learning Connections.
"They are educating the staff that are interested in being a director someday. Now we have the opportunity to attend those trainings, and we are working towards that long-term goal."
Viewing children as capable learners
Cottonwood Community Programs Site Director Francesca LoMonaco said Irizarry's interactions with young children are some of her most special qualities.
"Alex views children as capable learners and is always listening to their interests," she said. "Her ability to truly listen to the children gives her the advantage to develop emergent lesson plans and intentional activities."
Irizarry uses her own childhood experiences to guide her teaching.
"As a child, I was an introvert," she said. "I was very quiet, and I found it very hard. That influences me in the way I teach children. I want them all to feel comfortable. I want them to feel loved. I want them to feel safe."
Excerpted from Great Expectations Realized, Volume II, a publication from United Way of Tucson and Southern Arizona and First Things First.