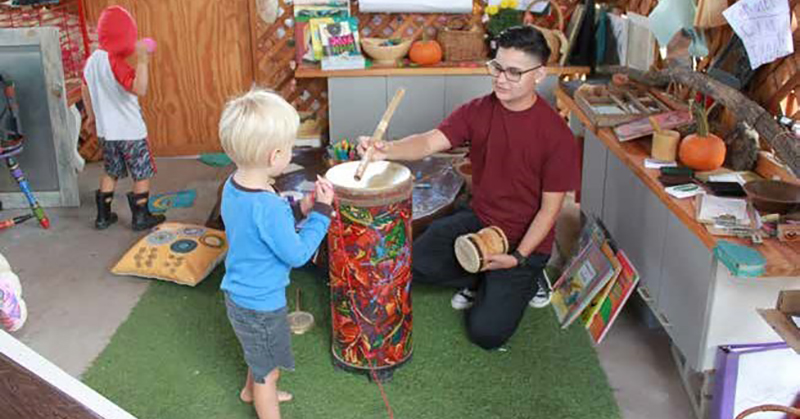 Editor's note:
Since 2009, First Things First has funded Great Expectations for Teachers, Children, and Families, which provides early childhood educators in Pima County with in-depth professional development that allows them to earn college credit and work toward degrees in early childhood. The United Way of Tucson and Southern Arizona administers the program that provides early childhood teachers, principals and administrators access to professional development that improves their knowledge of the development and learning of children birth to age 5. Today, there are 17 Communities of Practice, with a total of 720 students enrolled in the college classes across Pima County.
Over the next few weeks, we'll be sharing stories from some of the early childhood professionals who have benefited from the Great Expectations program. You'll hear firsthand how the program helped them elevate their teaching while earning college degrees in early childhood education.
---
Ysidro Holmes
Ysidro Holmes climbs the stairs of the towering tree house with his crew of preschoolers, gazing out at the charming neighborhood and mountain views that surround Second Street Children's School in Tucson. Exploring, creating and finding joy are all on Holmes's daily to-do list as a pre-kindergarten teacher.
"The moment I first walked on this campus, I knew I wanted to be an early childhood educator and that this was the place I wanted to be," said Holmes, who has taught pre-kindergarten and kindergarten at the school for five years. "The children are comfortable here, and I learn so much from them. I love coming to school every day."
Holmes is flourishing, thanks in part to support, mentoring and encouragement from United Way of Tucson and Southern Arizona's Great Expectations for Teachers, Children, Families, and Communities, funded through First Things First.
Through the Great Expectations Communities of Practice, Holmes has created lasting bonds with other educators and engaged in professional development that makes him a better teacher.
Scholarships from First Things First allowed Holmes to complete an associate degree in applied science in early childhood education from Pima Community College in May 2019. He's now working toward his bachelor's degree from the University of Arizona South and has remained a recipient of the First Things First College Scholarship.
Advocate for high-quality education
Holmes is a leader in the early childhood community, mentoring other students and helping to steer professional organizations that promote high-quality early learning for children.
The path toward leadership in early childhood education wasn't an easy one for Holmes. Following high school graduation, he delayed college and worked different jobs. After a year away from school, he enrolled at Pima College. To support himself, Holmes worked in large corporate child care settings, where he soon found that it wasn't the right teaching environment for him.
"It wasn't a good fit for me," Holmes said. "What child wants to learn from a worksheet? If this was early childhood education, I didn't think it was for me."
Then a friend told him about Second Street School, where during his first visit to campus, Holmes knew he had found his home.
Let children be children
"What I love about Second Street School is how they let children be themselves," Holmes said. "They do what is best for each child."
He's drawn to the school's child-centered, play-based model. Children explore and experience through touch, sight, sound and smell, banking the information learned from each experience in their brains. All activities are play-based and child-led, as little ones collaborate with peers and with teachers, who provide developmentally appropriate materials and choices for children to explore.
From day one, Jenny Barber Douglas, Second Street School director, saw tremendous potential in this introspective young teacher who was looking for an alternative to corporate child care centers.
"Ysidro is quiet and a little understated in the beginning, and then you start to get to know this person and you see how amazing he is," she said.
Within his first year, Holmes was placed in the director designee program, serving as point person for any issues that might arise.
"We really saw this emerging leader," Douglas said.
Five years later, Holmes is in his element as he sits with children in circle time as they plan a tortilla-making activity. Some kids sign up for measuring, others for mixing and cooking. Everyone is excited to eat fresh, homemade tortillas.
Helping Holmes develop his skills as an educator has been Great Expectations for Teachers, Children, Families, and Communities. Holmes first joined two Great Expectations Communities of Practice in 2014, Las Familias: Whole Teacher. Whole Child and ENLACE.
Real-life classroom
Las Familias, in partnership with the Southern Arizona Association for the Education of Young Children, implements developmentally appropriate practice in early childhood classrooms. Coaches there provided him with ideas on developmentally appropriate practice that he still uses with his students.
"Through Las Familias, it's nice to have someone in the field talk to you about how what you learn in school translates into the classroom," Holmes said. "Having a room full of teachers talk to you about their experiences and being able to bounce ideas off of each other is great. It's the real-life classroom that you won't get in academia."
The Las Familias community encourages Holmes to make education and his professional development a top priority.
"The relationships and mentors help me to be accountable, and I feel like they are cheering me on," he said. "I knew they were expecting me to be at meetings, and they'd asked me how school was."
The ENLACE Community of Practice, which is no longer one of the 17 Great Expectations Communities of Practice, helped Holmes succeed in math.
ENLACE — Spanish for interconnected — is an acronym for Educate, Nurture, Lead, Advocate, Communicate, Envision. ENLACE provided peer support and embedded math coaches in math courses open to early childhood students at Pima College.
Paying it forward
In the collaborative ENLACE spirit, Holmes and other students receiving the First Things First scholarship at Pima College in 2018 formed the Somos Enlace Early Childhood Student Association for Pima students.
"We started Somos Enlace as a mentor group for early childhood education students at Pima," Holmes said. "Then we started thinking larger scale, to offer mentorship to more students."
The program has expanded to early childhood students at four Arizona college campuses – Pima College and the University of Arizona in Tucson, Central Arizona College in Coolidge and Northland Pioneer College in northern Arizona.
The club holds monthly video conferencing meetings across the sites and meets in person when possible. Members discuss their experiences and provide insight into navigating school, career and leadership opportunities in early childhood.
Holmes's goal is to complete his bachelor's degree within three years, and he sees more education in his future.
"I feel like I have momentum and I don't see why I should stop," he said.
He hopes to one day teach teachers or transition to public policy work.
"I'd like to reach more people," Holmes said. "I think the profession needs advocates like me. Nationally, we need a fresh perspective, people who understand what kids are going through."
Ultimately, Holmes knows he is making the world a better place.
"Being a teacher is hard work, but at the end of the day I know I'm making a difference. I'm having an impact on society. I'm not just watching kids."