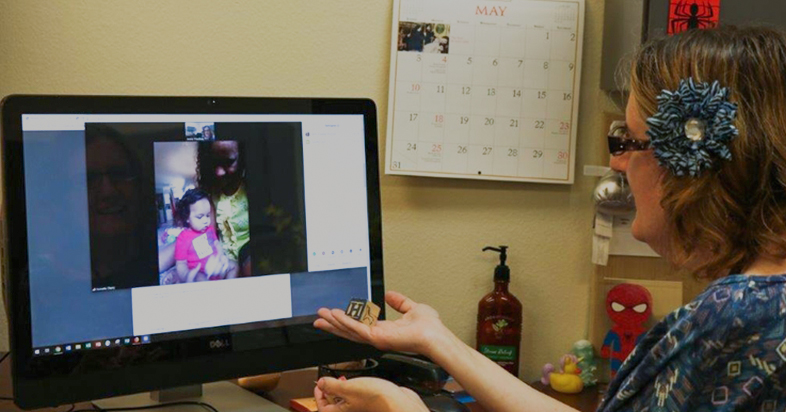 Editor's note: This story was written by the University of Arizona Cooperative Extension. First Things First funds developmental screenings in FTF regions across Arizona, including Pinal, Gila and San Carlos Apache regions.
Child development experts say the earlier the better when it comes to identifying children with developmental delays, but social distancing in the wake of COVID-19 has made early identification difficult in some cases.
"School and child care providers are critical sources for identification of delays and for linking parents to other services in the community," said Melissa Barnett, associate professor in the Norton School of Family and Consumer Sciences in the University of Arizona College of Agriculture and Life Sciences. "Since child care centers and schools are closed, many children who need screening for developmental delays may be missed."
Even before the pandemic, many families in rural areas lacked access to in-person screenings for developmental delays, Barnett said.
"Online screenings are an essential strategy to try to meet some of these needs because there's really no time to waste. Earlier identification and intervention is always better," Barnett said.
Developmental screenings are a way to partner with families to learn about a child's development and identify concerns that can point to a delay or disability.
To help address the screening challenge in rural areas, the University of Arizona Cooperative Extension has started offering free virtual developmental screenings in Arizona's Pinal and Gila counties and the San Carlos Tribal Community. The screenings are funded by Arizona's early childhood agency, First Things First.
Screeners with Cooperative Extension use the ASQ3 and the ASQ-SE — Ages and Stages Questionnaire Third Edition and Ages and Stages-Social Emotional – via Zoom, an online video chat program, walking parents or caregivers through the instructions and asking them questions about their children.
Part of the screening may require children to perform a skill, like drawing something or stacking items. Screenings are used to look for developmental delays in children before they enter kindergarten.
"We explain why we ask that question, and answer any questions or concerns the parent may have along the way," said Esther Turner, a senior program coordinator with Pinal County Cooperative Extension who does screenings. "This is a parent-response screening, so the questions are asked to the parents, but as the child gets older, some questions are directed to them.
"With a screening, we are able to provide timely information on the child's development and offer support activities. With more children at home during this crisis, it is very important that we educate parents on their child's development and realistic developmental expectations."
The screenings not only identify developmental delays, but provide data to families of children who may already be receiving speech therapy, occupational therapy or physical therapy on whether their child is progressing or needs additional support.
Referrals are given to the child's medical provider if needed. All parents, regardless of the results, receive activity sheets with ideas for games and activities to do with their children.
Some families say the screenings offer an opportunity to stay connected at an uncertain time.
"It's been a little hectic. I have three kids at home, and trying to do the teaching thing is a little crazy," said Lacee Goodman, a Payson mother of three.
She and her son, Tucker, who attends Safe Haven Child Development Center in Payson and will go to kindergarten next year, participated in a Zoom screening with Chrisann Dawson, a Gila County Cooperative Extension instructional specialist. Goodman said the session was very helpful.
"I felt like we were in the same room together," Goodman said. "My son Tucker communicated very well and did the things she asked him to. After the Zoom call, Chrisann mailed me all of the paperwork, and I saw where his skill level was. He'd been getting speech therapy, and the screening gave me some perspective of where he's at and what he's improved in. It's a good way to keep communication between staff and teachers and parents – and gives a heads-up if there are any concerns. It's been a good thing and good to be a part of."
The screenings also provide a social connection to families during the health pandemic.
"During this extended period of self-isolation, when parents and children have been together longer than typical, it's vital to connect with families," Dawson said. "Many are discouraged by the length of time. Our ability to reach out in this way to do the developmental screening encourages the parent and gives them something unique for their child to do. The positive feedback is encouraging to both parents and children."