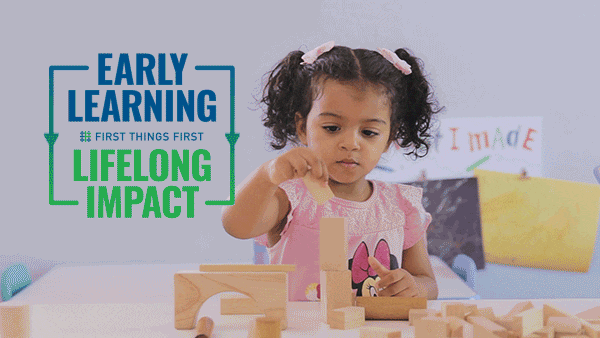 First Things First launched its new statewide awareness campaign — Early Learning, Lifelong Impact —this month, which reminds Arizonans that the learning that young children do today, builds the brain connections they'll need to succeed in school and in life tomorrow.
The campaign focuses on the message that the experiences children have in their first five years create a long-lasting impact in all areas of a child's life, which in turn impacts the future of our state. The skills built from birth to age 5 are foundational to becoming a high school graduate, ready for college or career and a healthy, happy member of our community later.
In addition, the campaign emphasizes that First Things First, as Arizona's early childhood agency, is a source of information, resources and tools for both parents and caregivers and for all Arizonans who want to learn more about the importance of early childhood.
The Early Learning, Lifelong Impact campaign will be promoted through a mix of digital advertising, which will allow viewers to click-through to learn more on the First Things First website, as well as traditional advertising, like television and radio. Digital advertising has begun and will run through June 21 while traditional advertising will run April 8 through May 10.
Visit the FTF YouTube channel to view the main 30-second ad. Also, please share the video with your networks, which can be done easily using the Share button on YouTube or at the top of this article.