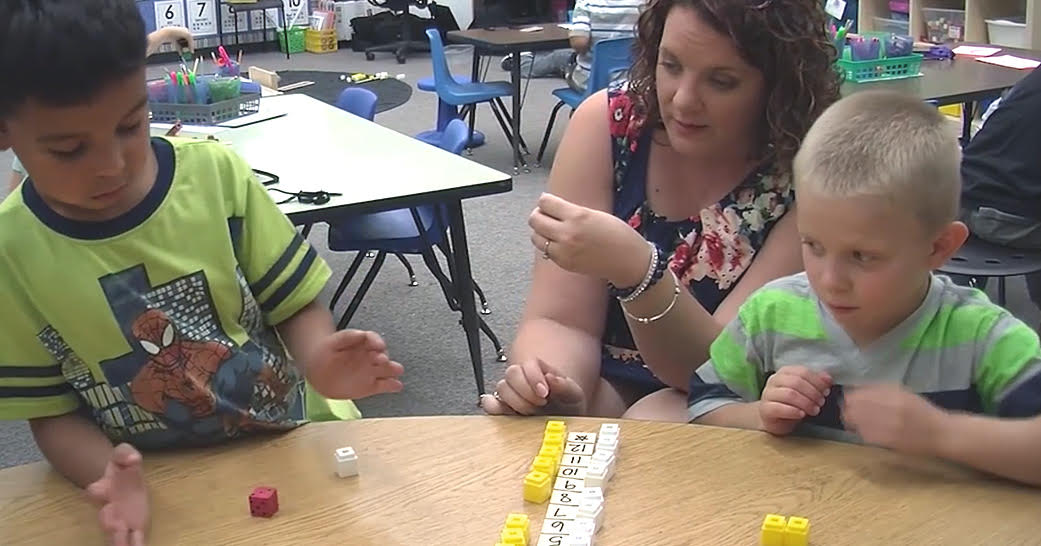 For 5-year-olds who have never experienced circle-time, scheduled activity time and navigating a classroom full of other children, the transition to a structured kindergarten class environment can be difficult.
A First Things First strategy is designed to help children who have not had the benefit of attending preschool to get classroom experience before kindergarten. The strategy is finding success in regions across Arizona.
The FTF Transition to Kindergarten Strategy is being implemented in the FTF Salt River Pima-Maricopa Indian Community Region, the FTF Pascua Yaqui Tribe Region and the FTF Colorado River Indian Tribes Region.
For Chris McIntier, who is chair of the FTF Salt River Pima-Maricopa Indian Community Regional Partnership Council, the transition to kindergarten program is making a difference. Introducing young children to the elementary school setting is important.
"It really is a transition," McIntier said. "The kids are being introduced to the school that they may be going to and they're learning those social-emotional skills, how to stand in line, how to sit and listen."
Cheyenne Enos thought her son, Brady, was ready for kindergarten, but decided to do a test run through the transition to kindergarten program that is funded by the FTF Salt River Pima-Maricopa Indian Community Region.
Brady had different ideas about starting kindergarten.
"He was actually running down the hallways, because he didn't want to go to class," said Enos, who soon realized that her son had difficulty behaving in a class setting.
The impact of the program extends beyond giving children a chance to gain classroom experience and interact with other students and teachers.
It also gives teachers an idea of how to prepare for the incoming students and it walks parents through what to expect for school communications and homework. Enos sat in on her son's class to see if she could help him. She instructed him on how to hold a pencil and sit in circle time, but Brady's behavior still disrupted the class.
"I realized he had attention issues and couldn't focus. He was also very hyper," Enos said. "I could see the teachers struggling with him. He struggled academically the first two weeks."
Brady had never been to preschool, so Enos didn't realize the classroom setting would be such a challenge. Soon after, Brady was diagnosed with attention-deficit/hyperactivity disorder and received treatment. There was an instant improvement.
"It was like night and day," said Enos. "He was able to participate. The joy on his face was amazing."
The summer program is designed for children like Brady, who haven't been to preschool and also children with special needs.
"It was a gift because we learned two months in advance of starting official kindergarten that Brady had ADHD," Enos said. "He was well, ready to go, and he's been successful in school ever since."
The FTF Transition to Kindergarten strategy is never meant to be a replacement to preschool or other high-quality early childhood experiences, but it does acknowledge that sometimes children enter kindergarten at different experience and skill levels.
For example, in the FTF Colorado River Indian Tribes Region, the principal at Le Pera Elementary School, which is in the Parker Unified School District, approached the FTF Colorado River Indian Tribes Regional Council in October 2017 with concerns that the majority of children arriving to kindergarten were not prepared to start school.
After a rigorous review of local data and resources, the FTF Colorado River Indian Tribes Regional Council implemented the Transition to Kindergarten Strategy that works through several one-week sessions for the children throughout the year. In addition, regional council members requested that parents be provided lessons to learn how to support their child's success by understanding what is expected of their child at kindergarten. They are also provided with learning activities to help enhance their child's learning at home.
The transition strategy was one of the successful strategies mentioned by Brandon Basha, after the regional council was awarded the Eddie Basha Regional Partnership Council Excellence Award for Leadership and Service in 2019.
"This approach has proven to be very successful," Basha said. "Families have made a great effort to attend each class and it has encouraged parents to learn alongside their children. One parent shared that she has seen so much progress in her child's ability to recognize letters and has noticed her daughter does a lot of imaginary play using a lot of the songs she learned from the program."
Many times, the impact of the program still resonates with students years after they've completed it.
"We give the parents a poster board during orientation and send pictures home throughout the program," McIntier said. "And the parents bring the poster with pictures back at the end of the program. I talked to a parent recently and their son is in the fourth grade and he still has it up in his room. It really connects the child and the parent with the school."