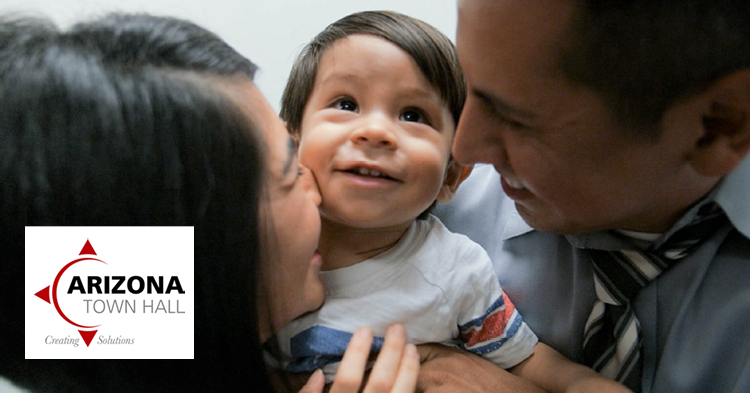 "When families are strong and children thrive, the community prospers."
That's the sentiment behind the 2019 Arizona Town Hall topic: Strong Families Thriving Children. Each year, the nonprofit organization focuses on engaging people across the state in community forums to learn about critical policy issues and develop solutions together.
"Arizonans realize that family and child well-being are public issues that impact everyone," said Tara Jackson, Arizona Town Hall president. "Helping families and children be happy, healthy and resilient helps the larger community and the state."
Relevance to early childhood supporters
This year's topic is particularly relevant to early childhood supporters, since the first five years of a child's life are so critical to later success in life. In addition, strengthening the family environment in which young children develop impacts their opportunity to have the positive, nurturing experiences they need to grow, learn and succeed.
In fact, the connection between the 2019 town hall topic and early childhood health and development is so strong that one of the first opportunities for discourse was at the 2019 First Things First Early Childhood Summit in August.
That town hall session — "Strong Families. Thriving Children. A Community Town Hall About Family and Child Well-Being," kicked off a series of community town halls to be held in communities across Arizona from September through November.
Residents are encouraged to register for and attend town halls in their communities. Some of the community town halls do have registration fees to cover venue and other costs. The series culminates in the 112th statewide Town Hall in mid-November, which is by invitation-only.
FTF partnership
First Things First is helping to sponsor community town halls in three communities — Pinal, Yuma and the La Paz/Mohave area. This partnership with Arizona Town Hall will help bring attention to the importance of considering the first five years when considering the overall topic of Strong Families Thriving Children.
In addition, First Things First served on a research committee which helped to develop a nearly 100-page background report on the topic. The report, which was prepared by the Morrison Institute for Public Policy in partnership with Arizona universities and the Arizona Town Hall Research Committee, covers a long list of topics related to building strong families and thriving children.
These include data about child well-being in the state, information about adverse childhood experiences, chapters on challenges faced by families and children such as violence and substance abuse as well as specific information on particular populations including children with disabilities, American Indians, rural Arizonans and refugee families. In addition, potential solutions are explored, including community resources, protective factors that increase family resiliency and how faith communities, nonprofits and governments can contribute.
A two-page summary of the report is also available. For more information and updates on planned community town halls this fall, visit the Arizona Town Hall website.
---
2019 Arizona Town Hall sessions
Phoenix
First Things First Early Childhood Summit 2019
Arizona Town Hall Panel, Phoenix Convention Center
August 26, 2019
3:30-5 p.m.
n/a
Prescott
Prescott Community Town Hall
September 6, 2019
Click here.
Tucson
Whetstone Unit Community Town Hall
September 11, 2019
Click here.
Tucson
Tucson Community Town Hall
September 13, 2019
Click here.
Phoenix
UMOM Community Town Hall
September 17, 2019
Click here.
Casa Grande
Casa Grande Community Town Hall
September 20, 2019
Click here.
Tucson
"Strong Families Thriving Children" Town Hall for Affected Populations
September 21, 2019
Click here.
Buckeye
Lewis Facility Community Town Hall
September 25, 2019
Click here.
Tucson
Future Leaders Town Hall
September 27, 2019
Click here.
Cave Creek
Cave Creek Community Town Hall
October 8, 2019
Click here.
Phoenix
Maryvale Community Town Hall
October 10, 2019
Click here.
Pinetop
White Mountains Community Town Hall
October 11, 2019
Click here.
Yuma
Future Leaders Town Hall
October 11, 2019
Coming soon.
Flagstaff
Flagstaff Community Town Hall
October 15, 2019
Click here.
Prescott
Yavapai College – Prescott Campus Future Leaders Town Hall
October 15, 2019
Coming soon.
Clarkdale
Yavapai College – Verde Valley Campus Future Leaders Town Hall
October 16, 2019
Coming soon.
Apache Junction
Apache Junction Community Town Hall
October 18, 2019
Coming soon.
Casa Grande
Future Leaders Town Hall
October 24, 2019
Coming soon.
Flagstaff
Future Leaders Town Hall
October 24, 2019
Coming soon.
Surprise
Future Leaders Town Hall
October 24, 2019
Coming soon.
Mohave County
Mohave County Community Town Hall
November 2, 2019
Coming soon.
Maricopa County
112th Statewide Town Hall (By invitation only)
November 14-16, 2019