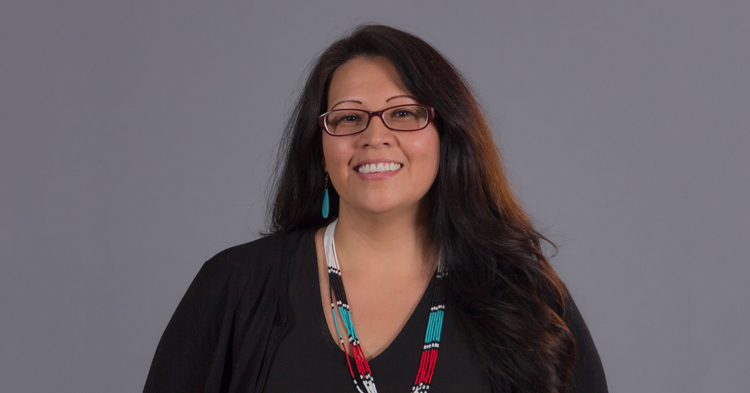 Candida L. Hunter, First Things First Senior Director of Tribal Affairs, has been named a 2018 winner of the Native American 40 Under 40 award.
The National Center for American Indian Enterprise Development honors leaders who have been nominated by members of their communities for their demonstrated leadership, initiative and dedication in making significant contributions in their communities.
"We are thrilled to recognize the impressive achievements of Candida Hunter," said Chris James, President and CEO of the National Center. "Ms. Hunter joins a diverse group of young women and men cultivated from across American Indian and Alaska Native communities. Each of these individuals has devoted their skills and resources to enhancing their communities. From business, academia, healthcare, tribal government, politics, non-profits, journalism, the law, finance, and marketing, 40 under 40 winners are shining examples for all of us to follow. For the 10th year in a row, it is an honor to recognize these individuals and leaders who will continue to define success for the future of Native American business."
Hunter, who is a citizen of the Hualapai Tribe, is responsible for ensuring the facilitation of effective government-to-government relations between FTF and Arizona's Indian Tribes and Nations; building and strengthening organizational relations with tribal partners; fostering tribal relations through collaborative partnerships; and facilitating the provision of culturally responsive early childhood services in tribal communities.
"I am honored to be recognized amongst Native Americans serving and contributing to the well-being and success of our tribal communities," Hunter said. "Growing up, I was taught to serve my people. My mom worked at the Hualapai Head Start until I was 16, and I spent hours after school learning from the teachers as I helped them prepare their classroom materials and from parents as we fundraised for their children's extracurricular activities. I am humbled to serve our youngest children birth to age 5, their parents and families and to learn from so many others who are dedicated to the well-being of our tribal communities in Arizona."
Hunter is a fellow of the Flinn-Brown Civic Leadership Academy focused on expanding the cadre of Arizonans in state-level civic leadership positions with the knowledge, skills and commitment to address the state's critical long-term issues.
She is also a member of the BUILD Equity Leaders Action Network which works to promote racial equity in early childhood systems. Hunter is the FTF representative on the Arizona Advisory Council on Indian Health Care and recently became a member of Northern Arizona University's Southwest Health Equity Research Collaborative Advisory Board to address health disparities in northern and southwest Arizona.
In addition, she  serves on the Center for Excellence Infant Early Childhood Mental Health Consultation Tribal Workgroup Committee to support the implementation of mental health consultants working with early childhood professionals in tribal communities.
Prior to joining FTF, Hunter served as a Hualapai Tribal Council member, Education Coordinator and Green Reentry Program Manager. Her volunteer service included work on the FTF Hualapai Tribe Regional Partnership Council, Peach Springs Boys and Girls Club Advisory Committee and several other community advisory boards and committees. She also served on the Grand Canyon Resort Corporation Board of Directors.
She is committed to ensuring tribes have access to resources appropriate for their priorities and needs and that entities interested in working with tribal communities do so in a way that not only honors sovereignty but also respects the culture and values of the people. She is a mother, a human services professional and former policymaker who strongly believes the success of future generations begins in the early years of life.
Hunter will be honored at the River Spirit Casino Resort in Tulsa, Okla. on Oct. 30.