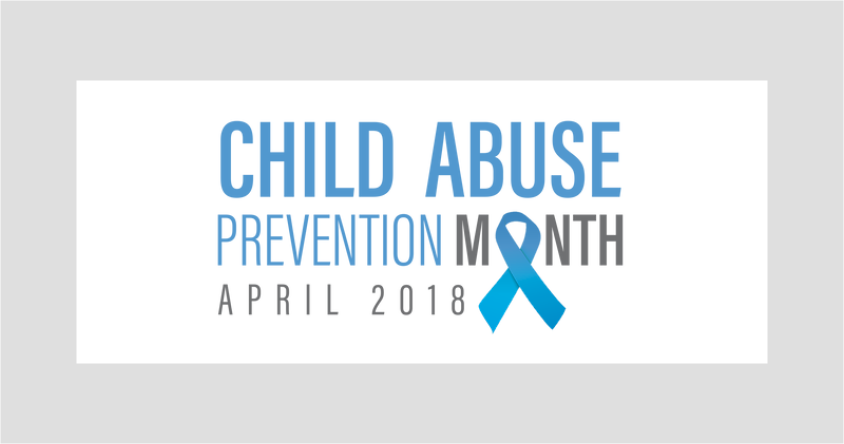 ​April is National Child Abuse Prevention Month, but prevention activities should be happening every day, every week, every month and every year, according to Sue Smith with the Office of Prevention in the Arizona Department of Child Safety.
"Prevention is something that everyone can be a part of," Smith said. "Families, parents, aunts and uncles, neighbors. There are opportunities to interact with others in all the different roles we play in our community."
Efforts to strengthen families, protect children and prevent child abuse and neglect are highlighted in April across the state. Sometimes, those efforts are done through official channels, such as working foster families and regional child abuse prevention councils.
The majority of times, it's something as simple as talking to parents and families and "acknowledging that parenting is one of the toughest and most important jobs you can do," Smith said. "Acknowledge the young people in the neighborhood and offer them your support, through words and actions."
First Things First is doing its part to strengthen families and keep challenging situations from becoming worse, including funding programs such as the FTF digital Parent Kit and the toll-free Birth to Five Helpline.
The FTF digital Parent Kit is available online at FirstThingsFirst.org/Resources/Parent-Kit/. The digital Parent Kit is designed to engage parents with easily accessible, high quality parenting information, which they can then share with others on their own social media outlets.
The toll-free Birth to Five Helpline provides free advice and answers to the toughest parenting questions from nurses and other child development experts. Expert help is a phone call away at 1-877-705-KIDS (5437).
One way that the DCS Office of Prevention is reaching families directly is through a new coloring book aimed at building stronger families. The pages are filled with wildlife in the Arizona desert that are used as examples to highlight five protective factors that help strengthen families. Some of the factors include: parental resilience, knowledge of parenting and child development and how a support system is essential to successful parenting.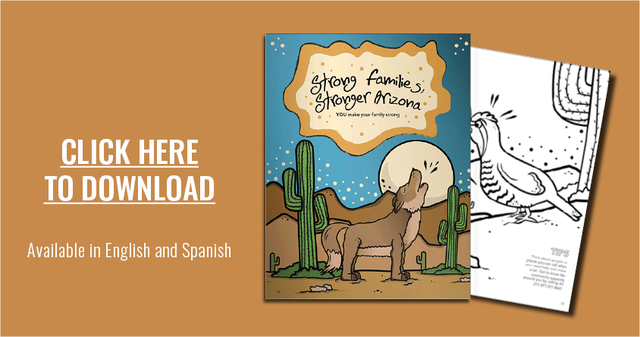 The book also provides tips on how parents can improve within each factor. The free coloring book, which is available in English and Spanish, can be downloaded here.
"We wanted to get something into the hands of families that they would use and do," Smith said. "Brochures may or may not get read, but a coloring book has information that people can relate to and color it, too." It's also an activity that parents and kids can do together.
For information about the regional child abuse prevention councils and find one in your area, visit here.
---
Arizona activities for Child Abuse Prevention Month 2018
Entries are listed alphabetically by city or county.
For more information and the most current details, please contact the council holding the event.
---
Flagstaff Child Abuse Prevention Council, Coconino Coalition for Children and Youth (CCC&Y)
Contact: 928-679-7318 or virginia@coconinokids.org
---
Gila River Indian Community, Three Precious Miracles (TPM) Abuse Prevention Council
Contact: Elisia Manuel at 520-610-2555 or elisia@threepreciousmiracles.org
April 25 – Cultural Family Support Group   TPM CAP will be hosting a support group at the Three Precious Miracles Office. Facilitator will conduct an ACE's Workshop Talking Circle.  Using this native interaction will allow participant healing through the ACE's training and engage parents with traditional healing.
---
Lake Havasu City Child Abuse Prevention Council
HAVEN Family Resource Center
Contact: Mary Lou O'Connell at 928-505-3153
April 21— Free Movies in the Park, Rotary Park, Lake Havasu City. There will be booths with crafts for the kids and information for the parents pertaining to ACES/Protective Factors and Positive Parenting.
---
Maricopa County, West Valley Child Abuse Prevention Council Strong Families Prevention Council
Contact: Sara Martinez at 623-240-6160 or samartinez@childhelp.org
April 25 – "It Takes a Village" – Celebrating parents, by offering them Protective Factors tool kits to increase the supports in their village. Aimed at parents with children in preschools and Head Start programs.
---
Phoenix – Greater Phoenix Child Abuse Prevention Council
Contact: Sandy LaCava at 602-633-8270
April 26 – Greater Phoenix CAP Council Annual Conference and Cherish the Children Awards Luncheon: Diversity-Informed Tenets for Working with Infants, Children and Families workshop presented by Ayannakai Nalo, LCSW, University of California SF, Benioff Children's Hospital Oakland and Carmen Rosa Norona, LCSW, Child Witness to Violence Project, Boston Medical Center.  Roman Catholic Diocese of Phoenix, 400 E. Monroe St., Phoenix, 8 a.m. – 4 p.m.
April 28 – Festival of Tales, Paradise Valley Community College, 9 a.m.-2 p.m.
---
Phoenix – South Mountain Village Child Abuse Prevention Council (SMVCAPC)
Contact: Earl Newton, MACS at 602-687-3615 or earl.newton@hoodzunited.com
April 12 – Adverse Childhood Experiences (ACEs) Trainings. – Presentation at Life Changers Global Ministries.
April 26 – Child Abuse Prevention Month Celebration We will be having guest speakers from our community to discuss the importance of everyone in the community partnering for prevention of child abuse. We plan to have a small reception afterward and a balloon release. 11 a.m.
---
Pima County Child Abuse Prevention Council (PCCAPC)
Contacts:
Raymond Serrano at 520-434-3664 or rserrano@ppep.org
Stephanie Castillo-Leon at 520-624-5600 or sleon@casadelosninos.org
Cynnamon Woodberry at 520-870-9832 or cynnamon@makewayforbooks.org
April 8 –Cyclovia Tucson The council will be a small sponsor of the community-wide event aimed to get the families to explore their city and promote health and well-being. The council will also host a vendor table at the event where we will hand out pinwheels to riders, as well as educational materials about child abuse prevention, and the protective factors.
April 13 – Families and Community Thrive Together Event The Council and DCS Office of Prevention in Pima County are going to host an event for agency providers to network and learn about the resources each agency provides that support families. The event will end with an "afterschool" special where families in the community will be invited to engage with community agencies, and participate in family fun.
---
Pinal County Child Abuse Prevention – Inter Agency Council
Contact:  Maria-Elena Ochoa at 520-836-1239
The Pinal County Interagency Child Abuse Prevention Council (IAC) both sponsors and participates in county-wide activities throughout the year. The IAC's goals are to: 1. Prevent child abuse by raising awareness about child abuse and child abuse prevention; 2. Educate the public and professionals on the statutory obligation to report child abuse; 3. Further develop the inter-agency council by expanding our community partnerships; 4. Implement new prevention programs and training opportunities; 5. Educate first responders on the signs and symptoms of child abuse.
April 13 – National Crime Victims' Rights Candlelight Vigil  The Inter Agency Council will be participating in the Victims' Rights Week activities that occur in Pinal County including the candlelight vigil walk held at the Promenade Mall in Casa Grande.  We will distribute Child Abuse Prevention material, posters, a tax check-off standing banner, and a flyer inviting community members to join the council.
April  16-18 – Week of the Young Child  Representatives of the Pinal County IAC will participate in the Pinal County Early Childhood Coalition's Week of the Young Child activities in four communities: Florence, Maricopa, Apache Junction and San Manuel.  Child Abuse Prevention materials and giveaways will be distributed.
---
Williams Area Child Abuse Prevention Council
Coconino Coalition for Children and Youth (CCC&Y)
Contact:  Michelle Simmons at 928-288-8750 or msimmons@nchcaz.org
---
Yavapai County – Verde Valley & Sedona Child Abuse Prevention Council
Contact: Erin Mabery at 928-646-5200
April – Annual Children's Celebration "Plant Strong Seeds, Grow Strong Roots" Community Event open to the public for families The 23rd Annual Children's Celebration will be hosted by Buena Vista which is a community event open to the public for families to gather and enjoy free popcorn, balloons, pinwheel garden and activities while receiving information of all the resources available to families throughout the Verde Valley. This free event will be held at Clemenceau (COCSD District Office Building) and will highlight a Southwest Airline Ticket Raffle, Yavapai Broadcasting Live Remote, The Money Machine, raffle prizes, face painting, Bounce House, Bombaz Grill, and much more! For more information, contact Bailey Mabery at bailey.bvcs@gmail.com.
Adverse Childhood Experiences (ACEs) Trainings  May 10, ACE training for Matforce Lunch N Learn
---
Yavapai County – Greater Prescott Valley and Prescott Yavapai Communities for Kids (YCK)
Prevent Child Abuse Arizona   
Contact: 928-925-6493 or claire@pcaaz.org
April 21 – Prescott Valley Pinwheel Party at the Prescott Valley Civic Center lawn, which will feature the planting of a 3,000 pinwheel "garden", representing the approximately 3,000 children under age six in Prescott Valley. The event will also feature fun activities for children and families and resource tables from local family service agencies.
April 19 –ACE presentation/community Lunch and Learn at Prevent Child Abuse Arizona
April 27-29 – Whiskey Off Road bike race event, YCK will hold an information table and give out pinwheels.
---
Yuma Child Abuse Prevention Council – Amberly's Place
Contact: Trevor Umphress at 928-373-0849   
April 13-14 –Tunes & Tacos Event Held at Ray Kroc Baseball Complex from 11a.m.-11 p.m. A booth will be displayed with prevention materials and interactive games.
April 28 – Day of the Young Child/Color Run at The Historic Quarter Master Depot located at 201 N 4th Ave Yuma Arizona 85364. Day will start with a color run/walk 5k at 8:30 a.m. Those that registered will receive a shirt and color packets. Once race is completed, participants can then attend the Day of the Young Child Event which will begin directly after and is free to all the community. 10 a.m.-2 p.m. Music, games, food, haircuts, petting zoo, face painting and community agencies (nonprofit/government/for profit) will be present during the event.