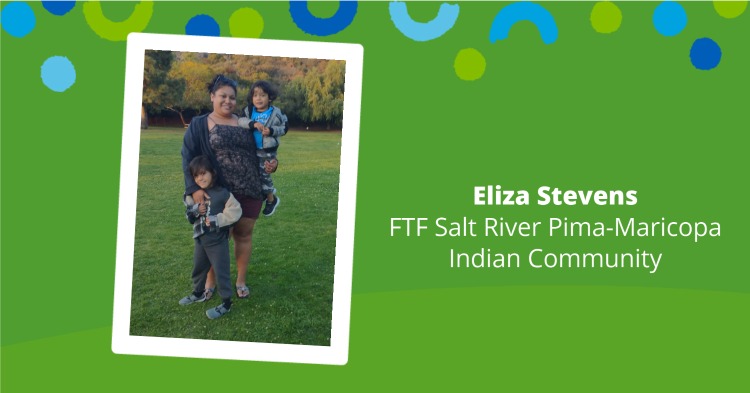 Eliza Stevens fled from her husband after enduring five years of abuse. She didn't want herself or her children exposed to violence anymore. 
"I was technically homeless with two kids," Stevens said. "I came back to Salt River Pima-Maricopa Indian Community to live with my father and had to start over again." 
As a single mom, she needed support and decided to enroll her boys in the Early Childhood Education Center (ECEC) in Scottsdale. The center connected her to resources like the WISH Parenting Education Program, which is funded by the First Things First Salt River Pima-Maricopa Indian Community Regional Partnership Council.
The program teaches parents and grandparents about brain development, milestones, communication, discipline and caring for children from birth to age 5. The class uses curriculum from Conscious Discipline® which is an evidence-based classroom management method that focuses on social-emotional learning and self-regulation.
Stevens said the class appealed to her, because she needed help in parenting her boys, Illias, age 4, and Rellik, age 2.
"I was struggling due to the trauma from the abuse," Stevens said. "The class really helped me by teaching me ways to cope with my stress. It also taught me how my children's brains develop and how trauma affects that development." 
The class teaches parents ways to help regulate their emotions, so they can teach their kids the same skills, said Pamela Prasher, an ECEC family advocate and co-facilitator for the WISH class. 
"Often times, parents don't know what to do with their anger and stress," Pamela Prasher said.
The class teaches them to identify their triggers, pay attention to how their bodies react and then step away from the situation to take deep breaths and relax before disciplining or trying to get their children to change a behavior. 
The class also includes tribal traditions and discusses topics in a culturally sensitive way. 
"They were culturally sensitive to topics like domestic violence," said Stevens. "They presented it in a way for us to understand how it affects our children in our homes and the reservation. They provided a perspective that opened our eyes to how we can strengthen our community by learning to care for our children."
Stevens said the tips and education about early development really helped her to reduce her own stress and connect with her boys. 
"I would have a difficult time getting Illias to listen to me," said Stevens.  "There would be times that he would act out, and I didn't know how to handle it. At the time, I thought he was trying to give me a hard time."
She learned to calm down and apply what she knew about his hierarchy of needs to figure out if he was hungry, tired, feeling unsafe or insecure, Stevens said. 
"Once I was able to calm down and figure out what was going on with him, everything fell into place," she said. "I could start redirecting him." 
Illias also had difficulty talking and expressing his emotions, so Stevens learned to work with him to identify and give names to his feelings.
"I learned from Pam to get down on their eye level and say, 'You look like you're feeling angry,'" Eliza Stevens said. "Illias can now tell me he's feeling mad or sad."
Stevens says Illias' behaviors are improving and she is able to communicate better with him. 
"It's reduced the stress of trying to figure out what's going on with both my boys and how to deal with them," said Stevens. "They aren't acting out to make me upset. I felt like I should have known that, but I didn't. They get upset when they are hungry or don't feel safe. As their parent, it's my job to identify and provide for their needs."