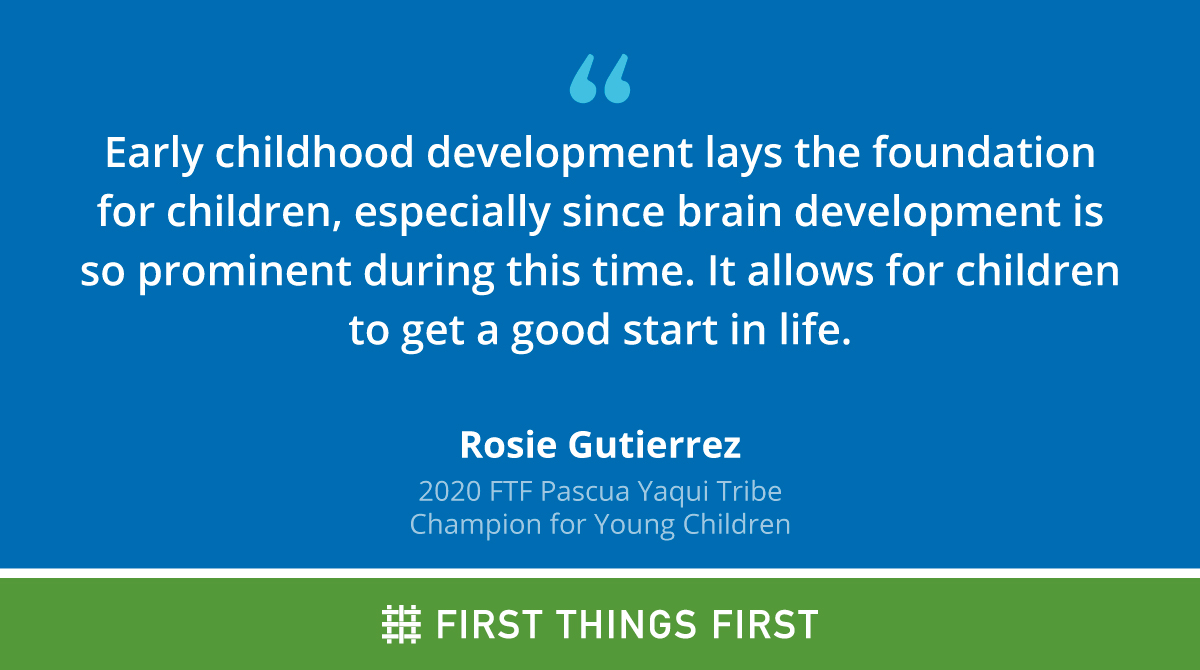 Pascua Yaqui Tribe Child Care Program and child care providers have been selected as the 2020 First Things First Pascua Yaqui Tribe Region Champions for Young Children.
The award is given to local champions who actively volunteer their time to raise public awareness of the importance of early childhood development and health. Champions spend a significant amount of time volunteering with FTF and building public awareness about the importance of early childhood issues. 
Pascua Yaqui Tribe Child Care Program and child care providers are great community partners that support the tribal early childhood development and health system and are strong advocates for the tribal young children and their families. Over the past years, the Tribal Child Care Program has worked with approximately 29 child care providers to serve many tribal children and families on and off the reservation, to enhance the quality of child care services through many professional development opportunities. They also continue the conversation about the need for more child care services on the reservation. During this unprecedented time, many of them continue providing very important early care and education services in the community.   
We recently caught up with Rosie Gutierrez, who is the Pascua Yaqui Tribe Child Care Program Supervisor.
Question: Why do you feel early childhood development and health is important?
Answer: Early childhood development and health go hand-in-hand. Early childhood is very unique. Early childhood development lays the foundation for children, especially since brain development is so prominent during this time. It allows for children to get a good start in life. In order for children to reach important milestones, they need to be healthy. Multiple factors play a roll in this: nutrition and home safety. Children need to be in a safe learning environment. This is critical — it leads to their adulthood. Children will grow to be more confident and eager to learn. This allows for better opportunities in career and education.
Question: How do you suggest other people in your community get involved?
Answer: They need to be more aware; seek out trainings and education on the topic. It's ideal to do hands-on work with parents and community. There are a lot of extended families that raise children in tribes, so demonstrating to them how to be the best parent they can is important. People can also attend peer support groups.