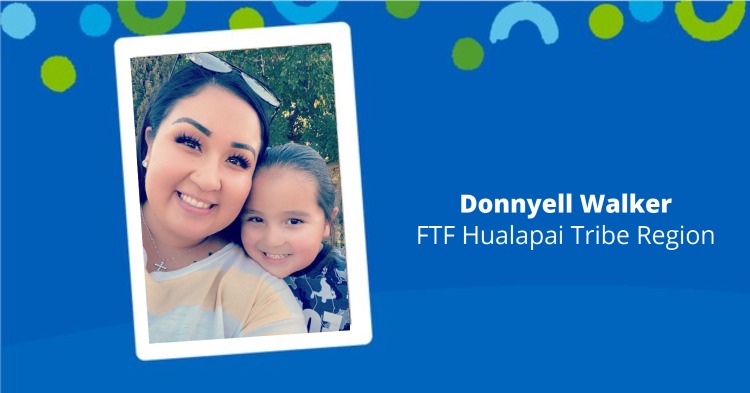 Donnyell Walker of Peach Springs found it challenging to co-parent her 5-year-old son, Brayan Bob, with his father. Walker and Brayan's father lived in separate homes with different rules for their son, which sometimes caused stress for everyone. 
Walker enrolled in the Hualapai Early Childhood Home Visitation program to learn how to better parent Brayan through the challenging time. 
"There were certain situations between me and his father that would affect Brayan," said Walker. "He would act out. It was a hard adjustment for him." 
Walker began working with Sashay Alvirez, the program's parent educator, who taught her communication strategies on how to give emotional support to Brayan and co-parent with his father. 
"She gave me forms to work off of and helpline information if I needed it," said Walker. "I followed her advice in working with my son's father."
As some aspects in the parenting relationship became more complicated, Walker reached out to Alvirez for advice. The parent educator wanted a deeper understanding of how to support the family's difficult situation, so she reached out to Virginia Hout, who is a supervisor and mental health consultant through the Smart Support program run by Southwest Human Development. The Hualapai home visitation program is supported with a mental health consultant through the Smart Support program. The First Things First Hualapai Tribe Regional Partnership Council funds Smart Support to provide support to parent educators when dealing with high-risk family situations that might involve more specialized resources or information on mental health issues.
"We offer professional development and support on mental health topics," said Hout. "Each month, we talk about the cases and cover topics that apply like maternal depression, substance abuse, adult mental health issues, screenings and family issues."
Hout also takes direct calls from parent educators when they need immediate help. 
"The situation with Donnyell and her family had gotten to the point where I needed more information on how to support them," Alvirez said. "We didn't have anything in our curriculum for their specific situation, so I reached out to Virginia on how I could support this family.  Virginia coached me on how to help them."
Alvirez first taught Walker how to manage her own stress through journaling, meditating and breathing. Walker also learned to pay closer attention to her son. 
"I learned how to communicate to him that I was always there for him," said Donnyell Walker.
"He would feel overwhelmed, so I would do breathing techniques with him to help him calm down." 
She learned to encourage him to talk, but not to push him. She said that Brayan is now able to regulate his emotions better and talk through situations that frustrate him. 
"I think the program helped him to be more mature," said Walker. "He can express and manage his emotions really well." 
Walker credits the home visitation program and the help from the mental health consultant for helping her navigate a difficult situation and helping her son. 
"If I hadn't gone through this program, I still would be trying to figure out the situation," said Walker. "I wouldn't notice my child feelings or know how to work through his feelings with him."