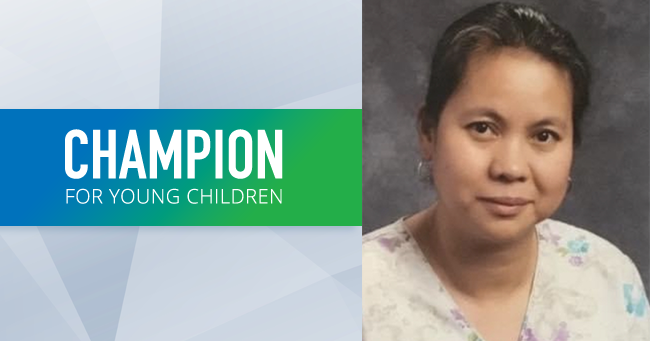 Josenia Ngo has been selected as the 2022 First Things First White Mountain Apache Tribe Champion for Young Children.
The award is given to local champions who actively volunteer their time to raise public awareness of the importance of early childhood development and health.
Ngo, or Ms. Josie as she is known, has cared for many Apache infants and children at the ABC Daycare over the years. Ngo sings, cradles, communicates and builds positive relationships with Apache children through her work at ABC Daycare, where she is the lead teacher and center's secretary.
Ngo recognizes the importance of stimulating and nurturing the healthy growth of the brains of young children through her efforts in the child care center. She demonstrates to her colleagues how to effectively communicate with children, play games and sing songs throughout the day to encourage brain development.
Throughout her time at the center, she has established great relationships not just with the children but also with the families. She knows everyone by name, and always takes the time to greet and ask about the children's development. Her work is focused on the frontlines of early childhood development for the White Mountain Apache Tribe, and it is well overdue that she is recognized for her dedication to young Apache children.
We recently caught up with Ngo.
QUESTION: Your actions make early childhood a priority. What inspires you to do that work?
ANSWER: Allow me to tell you a brief anecdote about me. My parents divorced when I was a year old for reasons I don't fully understand up to this day. My father was a drug and alcohol abuser, while my mother married my father in the hopes of escaping poverty. Regrettably, it did not. She abandoned me to my father and went off to live her own life. My grandparents took care of me as a child. Of course, I was grateful to have my grandparents, but I couldn't deny that I was hurting because I experienced firsthand how they were merely 'present,' but did nothing for me when I was a child. This experience stuck in my mind and helped me strengthen my core value that when I grow up and start a family, I thought that I don't want my children to go through the suffering I went through. I want to be present for my children and change the narrative of my story. And I succeeded!
Even though I had a difficult childhood, it did not prevent me from becoming the person I am today. So, when I first started working and practicing my career, I treated all children in the child care center as my own even if they are not related to me. Probably because of my experience, it helped me to relate to their pain and helplessness and because of that I believe I have found my calling — to be a voice for those who are unable to speak for themselves, as well as an instrument of hope to make things better for them. I knew exactly what it was like to be unsupported, unloved and ignored. My heart breaks for all families and children who are going through such a difficult time. Every day I always remind myself that "before hurting anyone, mentally and emotionally especially those who cannot protect themselves, feel their pain with your heart. Take care of them as your little child."
Q: What is motivating you to support babies, toddlers and preschoolers directly or indirectly?
A: My passion and love for young children, I believe, is one of the reasons behind this. As I mentioned before, I'd like to give these kids an opportunity to belong in a nurturing environment where they feel safe and welcomed. Although I don't get to stay with them 24 hours a day, I still believe that the little time I have with them has an impact on their formative years. Personal benefits and the sense of fulfillment they provide are also important considerations. Job security and incentives are great! Wherever you go, there is a high demand for early childhood teachers. Aside from the fact that I get to do the things I am passionate about which is working with kids, I also get to enjoy a lot of benefits from doing this job. In addition to that, my job is an avenue to make a difference in the lives of young people and to have an impact on future generations.
Q: How do you convince people not connected to early childhood that they should be a voice for Arizona's young children?
A: I believe the best way I can influence and persuade people to step up and be a voice for all of Arizona's young children is to educate them — to inform them about what is going on and how we can assist these children prepare for the future. I want them to be informed that these kids are in their formative years and that this is a critical time in their lives. We should strive to assist these children in achieving holistic development, including social, emotional, cognitive, and physical development, in order to build a solid and broad foundation for lifelong learning and wellbeing. This can happen at any time and place. There are various platforms where I can share information with others, such as online platforms — Facebook or Instagram. These simple acts of kindness that I do daily with my students, which I believe will not go unnoticed — it's going to spread, multiply, affect and infect one person at a time.