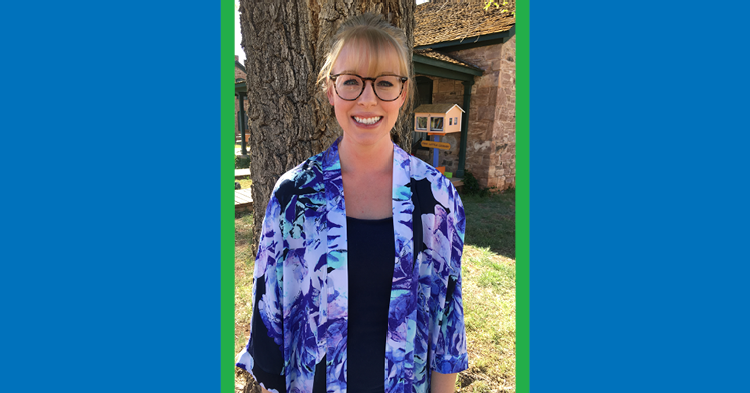 Kari Logsdon has been selected as the 2019 First Things First White Mountain Apache Tribe Region Champion for Young Children.
The award is given to local champions who actively volunteer their time to raise public awareness of the importance of early childhood development and health. Champions spend a significant amount of time volunteering with FTF and building public awareness about the importance of early childhood issues.
Logsdon worked to establish trauma-informed care for children on the reservation, with a focus on integrating care with Whiteriver Indian Health Services (IHS). She has facilitated the improvement of communication between providers at IHS and Apache Behavioral Health Services (ABHS) to provide timely care and services to the children on the reservation.
Logsdon has been the consistent thread in establishing the THRIVE Birth to Five Program at ABHS, from the conception of the program. She provides quality mental health care to children and their families birth to age 5 on the reservation. She also regularly provides training to local tribal departments, programs and schools to promote the healthy development and wellbeing of children birth to age 5.
Logsdon is independently licensed and has spent her entire career with ABHS, with a significant portion of that time in children's services. She has provided crisis services for both children and adults as an on-call clinician throughout her time at ABHS. Logsdon continues to follow up with families to ensure clients are engaged in services at all levels of treatment.
We recently caught up with Logsdon, who is a THRIVE Birth to Five clinician.
Question: Why do you feel early childhood development and health is important?
Answer: It is important because it is the foundation for the rest of their lives. One of First Things First's core messages is 90% brain develops by age 5, so a healthy start in the birth to age 5 sets the children up for success in school by wiring pathways in their brain for learning and mastery of vital developmental milestones. This, in turn, creates positive self-esteem and helps them understand how to build healthy relationships. Having good health, feeling confident in themselves and having supportive, secure relationships can buffer the impact of trauma and hardship in life. It can prevent mental health challenges in the future and create resilience.
Question: How do you suggest other people in your community get involved?
Answer: Everyone has the power to be a positive, supportive person in a child's life. So it can start with families, relatives and neighbors nurturing the children around them in their communities. Get to know the children's names. Provide safe havens for them to go to for support and protection. Get to know a child's likes and dislikes and play with them. Parents, read to your children and play with them. Be available, attentive and responsive to their needs. Be advocates of safety and learning. Be healthy role models. You can also volunteer time if you have it to support the Head Start preschool classrooms. You could also volunteer your time at the children's shelter. All kids need all the love and attention they can get. It shapes how they feel about themselves. Shapes that they matter and are important. Last and most important, is If you know your Apache language, teach it to the children. Speak it to them so they can learn and help spread positive identity in being White Mountain Apache.