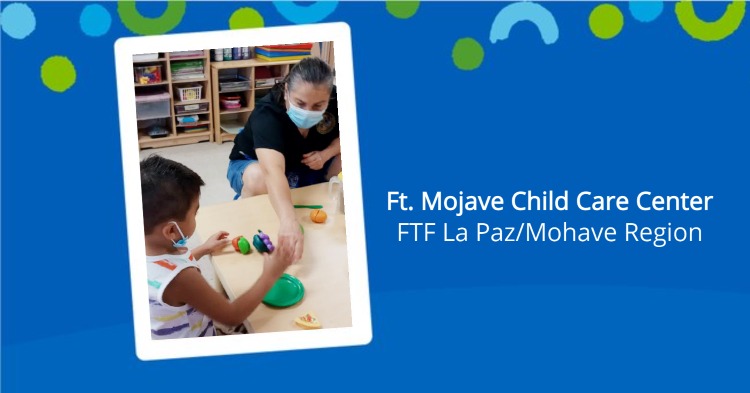 As a rural community in northwest Arizona, sometimes it's a challenge to get professional development to early childhood teachers at the Ft. Mojave Child Care Center in Mohave Valley. 
Since enrolling in Quality First, a signature program of First Things First, the center's teachers have gained experience and access to professional development to expand their skills to create learning environments that nurture the emotional, social and academic development of every child.
The First Things First La Paz/Mohave Regional Partnership Council funds the Quality First program, which partners with child care and preschool providers to improve the quality of early learning across Arizona. Research shows that quality improvements to early care programs help children thrive, such as providing training for teachers.
The center's director, Betsy Lewis, is proud of the center's reputation as one of the best in the area. The center has a 5-star Quality First rating, the highest available through the program. The center is located on the Fort Mojave Indian Tribe and is about 30 miles from Bullhead City. Their students eventually feed into three nearby school districts. 
"We always hear from school districts that they can tell which children had access to early care and education, because they can see how advanced the children are when they are being assessed in kindergarten," said Lewis, who has been involved with early childhood with the tribe since the child care center opened in the 1980s. "They are really school-ready."
At the center, the children are placed into the infant, toddler and preschool rooms, but "we're looking at that whole child, physically, emotionally, mentally to make sure that they're really ready to move to that next step."
Quality First provides coaching to the center's staff, as well as different learning opportunities. 
"It is helping our teachers gain those skills to benefit the children," Lewis said. "For example, they'll help us look at the classroom environment and how we can improve it."
Like in the majority of child care centers statewide, the COVID-19 pandemic forced a shutdown of in-person learning for the babies, toddlers and preschools while teachers are still seeing a struggle with the transition back for the students. 
"Quality First helped us be prepared for those behaviors," Betsy Lewis said.
"So many of the children missed the transition from one (developmental) room to the next."
For example, they kept the 3-year-olds in the toddler room, because they might need extra attention with parts of their development, Lewis said.  
The children also came back to the center in smaller numbers, but the center's staff push through. They are also finding new ways of communicating with parents. 
"We've learned so much being involved with Quality First," Lewis said. "Parents are also understanding that having this strong foundation when they're little is critical in a child's life."
She always tells parents to watch as their child is preparing to make great strides. 
"It's the starting point to your child's life," Lewis said. "We're working on the whole child to prepare them for the next step into school and into life."