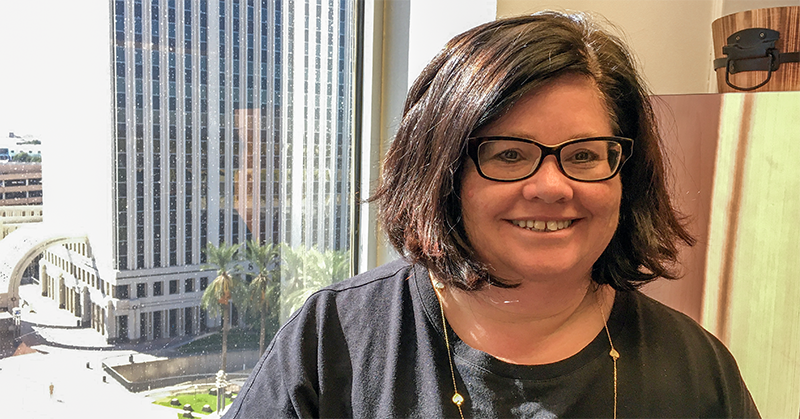 Amy Corriveau joined First Things First as Chief Program Officer on Oct. 28.  For almost 30 years, Corriveau has dedicated her professional life to expanding and improving early education opportunities in Arizona.  She began her career as an early educator and has held leadership positions at the Arizona Department of Education, as Deputy Associate Superintendent and Head Start Collaboration Director. Most recently she served as the Deputy Human Services Director for Education at the City of Phoenix, where she oversaw their Head Start program.
Corriveau leads the FTF Program division and collaborative efforts with other state agencies, industry groups, non-profit organizations and families to enhance learning opportunities for Arizona's babies, toddlers and preschoolers.
QUESTION: How, and when, did you first get involved with early childhood education?
ANSWER: I have been engaged in early childhood in a variety of ways throughout my career. It began as a Head Start teacher and home visitor with the Maricopa County Head Start while I was in graduate school at Arizona State University. I later became an early childhood special education teacher and have worked in a career and technical education program working with teen moms.
Q. You were familiar with First Things First as a long-time community partner, what impressions do you have of the organization as you now join FTF as Chief Program Officer?
A. I have a long history with First Things First. It began as a member of the community who worked to get the proposition passed. I had the opportunity to serve on the Board representing the Department of Education upon its inception. Throughout the years, I have always considered FTF as an important leader in the early childhood community in Arizona. In addition, I feel that they are a major convener in bringing together the field. As I transition to FTF, I am excited to be part of an organization that is instrumental in the work that benefits children and families. I am so proud to have been a part of FTF's history and now being able to participate in the evolution of FTF as an agency. As I look forward, some of the important items for me are to (1) continue to develop and strengthen relationships, (2) refine and enhance opportunities based on data and (3) identify innovations and growth opportunities based on continued quality improvement.
Q. How do you see Arizona moving forward in improving quality early childhood experiences for all infants, toddlers and preschoolers?
A. I believe that Arizona has the architecture to create a strong system of support for children and families with young children. I think it is important to continue to weave our work into the infrastructure of our state's culture. I want Arizona to nationally be recognized as a state known for doing good things for children and families. I want us to have an abundance of opportunity for families to support them in getting their children ready for success in school.
Q. In your view, what role do FTF-funded programs have in supporting early childhood health and development in Arizona?
A. As a critical funder in the system, I think it is our responsibility to ensure we are good stewards of public dollars. It is our responsibility to ensure that funded programs are offered as part of a continuum of supports meeting a need for families, demonstrate impact in a variety of ways, are supported by research and best practice as well as allow for innovation.
Q. What would you like all Arizonans to know about the importance of early childhood?
A. A strong foundation for children is the key for our future success. How we prioritize children and families does demonstrate our values and beliefs. For a long time, many children born in Arizona were not likely to stay or grow up here. Maybe that allowed us to have a pass in our responsibility, but in recent years, families are choosing to move here. A few years ago, Arizona celebrated its 100-year anniversary, so we are still evolving and creating our unique culture in the larger national landscape. I know that through an investment in early childhood, families can take pride in raising their children here. I know that every parent, without fail, wants better for their children. They all have goals and aspirations for them and with support and partnerships offered by FTF and the early childhood education system, they can help make those things a reality. Lastly, I would want for everyone raising a child to spend a few minutes every day in awe of their development. Just a few minutes at the beginning and end of the day to reflect and have a small, quiet conversation with them.