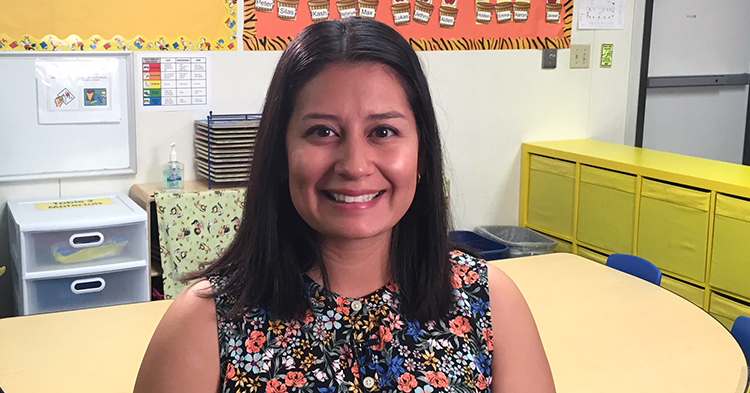 This week parents and students across the country will create heartfelt thank you cards, bake homemade goodies and wrap handmade crafts to give to teachers in honor of Teacher Appreciation Week, which runs through May 11. As part of the celebration, don't forget the dedicated teachers and caregivers who work with kids birth to age 5.
After all, those first five years are critical for long-term success later in school and life. Research shows that babies, toddlers and preschoolers learn and grow through their relationships with the caring adults in their life. That includes early learning professionals.
---
---
Recently, we caught up with Maria Barker, a preschool teacher who was named one of Arizona's 2019 finalists in the annual Arizona Teacher of the Year program. Barker was the first preschool teacher selected as an Ambassador for Excellence in the two decades that the Arizona Education Foundation has led the program.
This is one sign of growing recognition that teachers in the preschool years are a critical part of the education continuum. It's a realization similar to the path that brought Barker herself from teaching grade schoolers to teaching preschoolers.
Barker, a former K-3 grade school teacher, said she transitioned into preschool for the opportunity to make an early impact on students' long-term success. She now teaches at Red Mountain Center for Early Education in Mesa Public Schools.
We asked Barker about the increasing recognition that early learning professionals are rightly receiving.
Question: Has the selection of a preschool teacher as a Teacher of the Year finalist changed the attention given to early learning?
Answer: Being named one of AEF's 2019 Ambassadors for Excellence and the first preschool teacher in the Top 5 has provided me the platform to be included in educational conversations that have unknowingly excluded preschool educators in the past. From little changes, like expanding the traditional K-12 terminology to include Pre-K, to being afforded opportunities to share my experiences and knowledge of the impact of early childhood education and how working with students and families to close the learning gap at the earliest opportunity can prevent a multitude of the social-emotional and academic challenges we are seeing not only in Kindergarten but in higher grade levels.
Question: Why does early learning need greater support from the larger community?
Answer: Early childhood education is something that everyone must learn to value and the reason I became early childhood certified after eight years in elementary schools. I want to be part of setting a strong foundation and advocating for policies that will help all young children to access high-quality and free or affordable education. I am honored to represent preschool and particularly ECSE (early childhood special education) and hopefully shift the mindsets of fellow educators, parents and communities on the value and vital role that education before age 5 plays in building long-lasting and capable student learners.