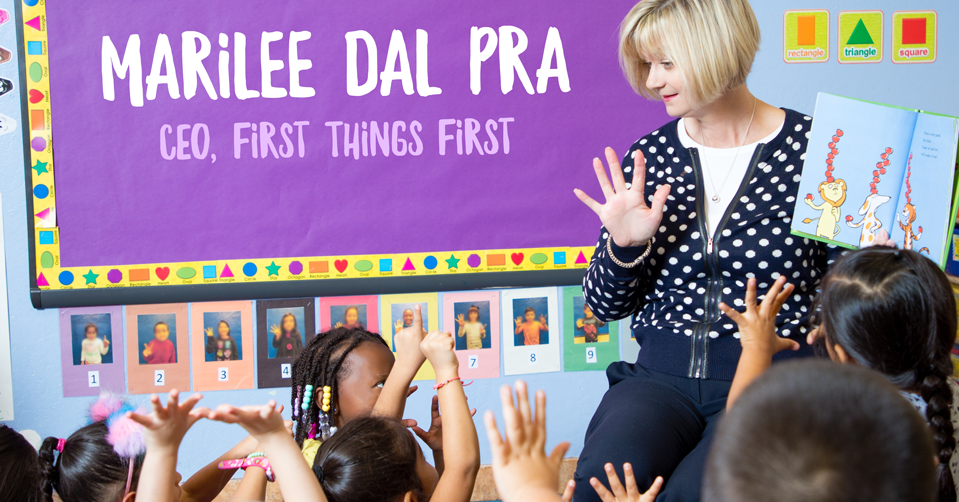 One year ago, Marilee Dal Pra became chief executive officer of First Things First. As 2019 begins, she shares thoughts about her initial year leading the organization and her hopes for building on current collaborations and partnerships – and establishing new ones – to continue advancing First Things First's mission to help all of Arizona's youngest children learn, grow and succeed.
My initial year at First Things First (FTF) has deepened my profound respect and admiration for all of the community leaders and organizations with whom we partner to improve the lives of young children and their families. I am extremely proud of what we have accomplished over the past year and hold great hope and expectation for the work that lies ahead.
As a new CEO, it was extremely gratifying to assume the helm of an organization that has a well-defined mission, clear goals, a knowledgeable and dedicated staff, successful collaborations with state partners and a widely engaged community of champions and supporters. With all of that, it may seem as though success can be easily achieved; but in truth, we know that challenges lie ahead in securing the resources that Arizona's children and their families desperately need.
FTF's strategic plan serves as a compass to chart our course of action and lays a solid foundation upon which our success will be built. At the core of that success is relationships. Relationships strengthen our collective will to do more for our young children. They embolden our resolve to tear down barriers. And, they fuel our commitment to help others – including business leaders, philanthropists and elected officials – understand and engage in this work.
This past year, those relationships resulted in partnerships that lead to more early childhood information and support getting to Arizona's families; higher payment rates for quality child care and preschool providers; and increased engagement by state policymakers on early childhood issues.  A great start for what we intend to achieve over the next four years.
In 2019, I look forward to working with new and existing community partners – like you – to continue to establish, expand and leverage the partnerships and collaborations needed to ensure all of Arizona's children have the opportunity to arrive at school prepared to succeed in kindergarten and beyond!