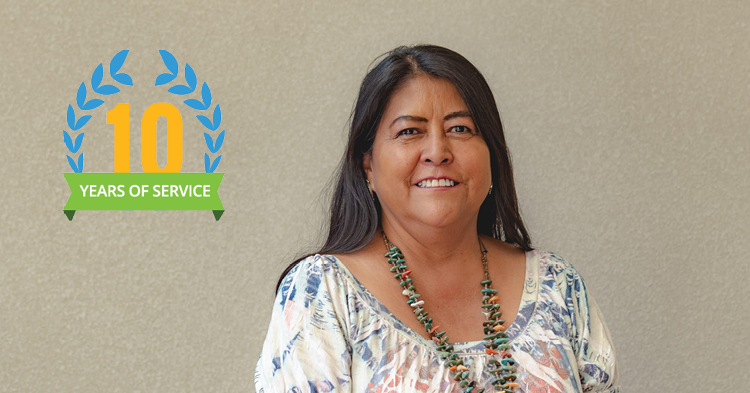 First Things First is celebrating the commitment of nearly 50 volunteers who have served on a regional partnership council for a decade.
Earlier this month, we introduced you to some of these 10-year FTF volunteers from different regions throughout Arizona. Each profile is followed by a complete list of the members in that regional area who have served for 10 years. Regardless of their location or affiliations, these individuals share one common trait: they are passionate about improving the lives of young children in their communities. They are true champions for children.
Please read about FTF Navajo Nation Regional Council member Paula Seanez
When Paula Seanez was approached by members of her community about serving on the FTF Navajo Nation Regional Partnership Council, the answer was obvious: it was a perfect match.
For about 40 years, Seanez has been involved in early intervention, which works to identify young children who are not meeting developmental milestones, or who have developmental disabilities, and work with families to ensure children receive the support they need for optimal success.
For the past 25 years, she has overseen a program called Growing In Beauty, which combines early intervention services with homebased parenting education. She saw service on the regional council as a way to build awareness of the benefits of early intervention outside the early childhood community.
"While supporting our children is a priority for our leadership, it is usually talked about in terms of the K-12 system," Seanez said. "This was an opportunity to fundamentally change the way people thought about education; to shift the conversation to early childhood and to have a partner in building the infrastructure and capacity in our community to better serve children in need.
Throughout the past decade, she has seen that vision become a reality.
"It's amazing to see all of the different stakeholders at the table, with their diverse perspectives, all agreeing that investing in young children is important," Seanez said, who is currently the education representative, but also served as vice chair in the past. "It really gives us an opportunity to move forward together to address gaps in services because we are all coming from the same knowledge base."
The size of the region – which is bigger than most U.S. states – can make coming together difficult, and providing services to families even harder, said Seanez. But the successes, she added, are what keep everyone committed to working even harder.
"We see more people really getting it; we see a change in our community realizing that child care is early learning, not babysitting," Seanez said. "We can build on every success, and when we do, we'll start to see those outcomes that only fuel even greater work and greater collaboration."
10 years of service
FTF Northeast Regional  Area
Coconino Region
Noreen Sakiestewa
Navajo Nation Region
Paula Seanez
Navajo/Apache Region
Claude Endfield
White Mountain Apache Tribe Region
Laurel Endfield
Yavapai Region
Anne Babinsky