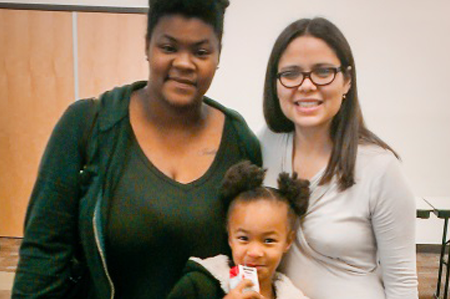 Jasmin was a teen mother looking for ways to support her 3-year-old daughter Jada's learning when she heard that Make Way for Books offered an early literacy program at her apartment community.
First Things First funds Make Way for Books' Raising A Reader program, in which families participate in a book exchange program designed to bring books into the home and encourage families to read together.
Jasmin and Jada were living in a community designed for formerly homeless teen mothers and their kids. Week after week, Jasmin watched as program staff read books to Jada and provided her with ways to support her daughter's learning after class ended. Many times, the books, which were selected based on the age of the child, came with story-based activities that parents could do with their kids at home.
Jasmin learned to ask Jada questions about the story as they read together at home. She would ask her to predict, "What might happen next?" and use silly voices for the different characters. Pete the Cat books became a favorite at home.
Jasmin was so excited about what she and Jada were learning that she "started knocking on the doors of my neighbors to bring them to the program too," recruiting other families to join.
Even though the family still struggles to find permanent housing, Jasmin said she and her daughter continue to visit the library regularly and stay in contact with the staff from Make Way for Books.
"Today Jada is one of the top readers in her first grade class," Jasmin said. "Before this program, I tried to read to Jada but it wasn't until attending the program that I learned how to make the books come alive for her."​