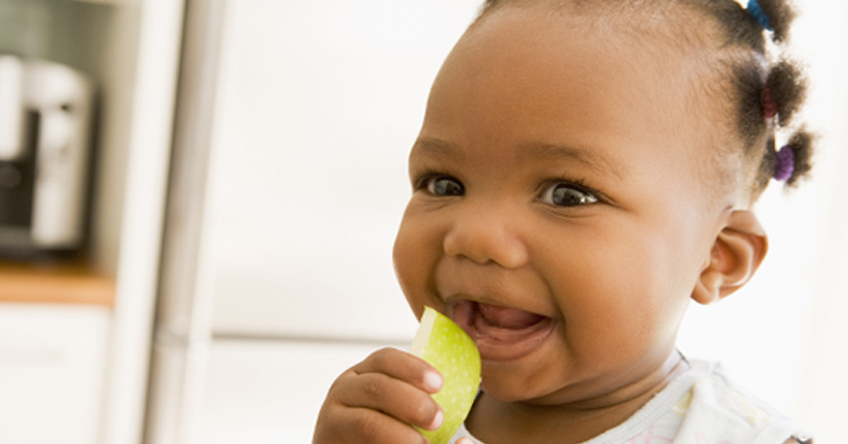 First Things First regions in Maricopa County are part of a new systems-building partnership looking at ways to tackle early childhood hunger and obesity among young children.
This is one example of how FTF works with other community partners to address systemic challenges and improve outcomes for young children.
A recent study shows that persistent household food insecurity during infancy and early childhood is associated with higher rates of childhood obesity later on. Maricopa County ranks fourth in the nation in the number of kids living at risk of hunger, with more than a quarter of a million children living in food insecure households. Still, 1 in 7 children under age 5 in Maricopa County are considered obese.
FTF Phoenix North Regional Director Karen Yearwood, with direction from her council, set out to better understand the problems, what efforts already existed, and how FTF might play a role in accelerating progress toward solutions. She joined forces with Cynthia Melde, then the regional director for the FTF Southeast Maricopa region, whose council was also interested in early childhood nutrition issues.
"We quickly realized that the factors involved in early childhood hunger and nutrition are countywide, so the solutions would need to be countywide, too," Yearwood said. "We needed to think bigger – beyond regional boundaries."
Last summer, regional directors and representatives from seven regional partnership councils covering Maricopa County convened to discuss the issues and potential opportunities.
"Most (at the meeting) were health representatives," Yearwood said. Regional councils have seats designated for specific early childhood stakeholders, such as parents, educators and school administrators. "We talked about what we had learned so far. That while there are a lot of different organizations working on these issues, we saw a bit of a gap in the early childhood years. Services for the birth to 5 population were not as focused."
Most importantly, they asked what position the council members thought FTF should play. The consensus was clear: FTF regions should take a leadership role in addressing early childhood nutrition challenges in Maricopa County.
FTF regional partnership councils in Maricopa County had already begun to recognize these challenges in the course of their strategic planning, as this data was part of the biennial regional needs and assets reports that councils rely on to make funding decisions. Some councils have funded food distribution programs to address nutrition-related needs; others have identified hunger and obesity as opportunities for FTF to make an impact through systems-building.
Yearwood and others identified an opportunity with the Maricopa County Preventive Health Collaborative to become an "action learning team," made up of diverse community partners. FTF is now part of a formal partnership with the Arizona Nutrition Network, Association of Arizona Food Banks, Valley of the Sun United Way, Maricopa County Women Infants Children (WIC) Program, and the First Things First Family Resource Network. A facilitator is helping the team implement changes.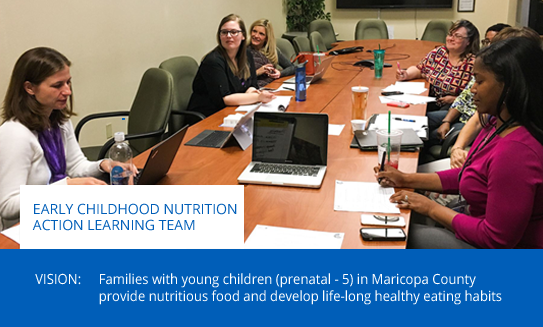 The team has been meeting monthly and is working to build grantee capacity, reduce duplication of efforts, and develop an efficient system for referral and coordination between family support services and food service providers.
"For example, transportation is an issue for some people getting to a food bank," Yearwood said. "So, can we provide these services at a local family resource center? How can we help WIC or a food bank expand access and meet people where they are?"
Two pilot efforts are rolling out in Mesa and North Phoenix, each with a FTF family resource center serving as the hub, to help develop best practices that can be applied throughout the county.
The team's efforts will ultimately result in a strategic plan for sustainable changes to reduce hunger, increase access to healthy, affordable and nutritious foods and reduce childhood obesity in Maricopa County.
"We're hoping it leads to both systems changes and policy changes," Yearwood said.
These efforts illustrate how, in addition to funding programs and services for young children and families, FTF takes a systems-building approach toward fulfilling our mission to support the healthy development of Arizona's young children.
---
Dan Puglisi is senior director of marketing and strategic initiatives at First Things First. Reach him at dan@firstthingsfirst.org