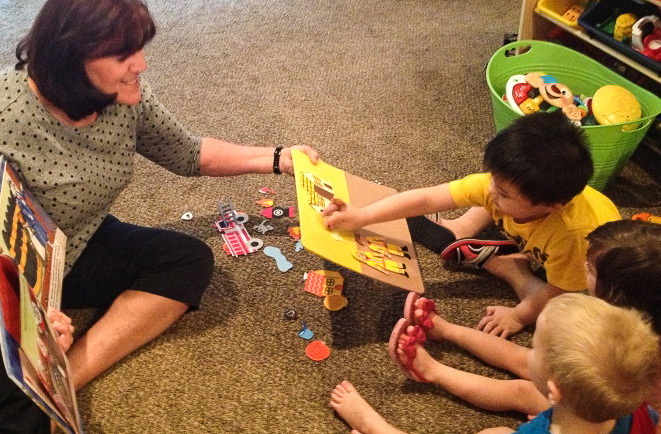 After 26 years nurturing and educating young children, veteran teacher Becky Tellez never expect to face a teaching challenge she couldn't overcome. But, when faced with a total language barrier, she was stumped.
Becky, who runs Becky's Family Child Care out of her home in Avondale, had been working with a 3 year old boy who only spoke Vietnamese. Timmy was "painfully shy" and did not understand what was happening around him, Becky said. Although he interacted some with the other children, he avoided Becky.
After a week trying to communicate, the veteran child care provider was just about ready to give up; then, she asked for help from Priscilla Perkins, an In-Home Provider Coach at the KidsWatchAZ program funded by First Things First.
"I was rehearsing how to tell the family this (situation) was not working, when we got a visit from Priscilla," Becky said. With support from Priscilla, Becky worked with Timmy's family to learn basic words to help communicate with the preschooler – like potty, eat, food, drink, sleep and asking if he was hurt.
"Then, I gave her materials that had more focus on language, like early literacy books, games and activities, plus writing tools like a dry erase board, foam letters and a felt board to help in storytelling," Priscilla said.
Within a few months, Becky and Timmy were communicating and understanding each other better. The support from KidsWatchAZ was critical, Becky said.
Studies show 64 percent of kids 5 and younger in southwest Maricopa County – including Tolleson, Avondale, Goodyear, Litchfield Park, Buckeye and Gila Bend – are cared for in informal settings by family members, friends and neighbors. KidsWatchAZ helps those caregivers provide richer early learning experiences through coaching, tools and education.
Priscilla works with more than 28 in-home child care providers like Becky in the Southwest Maricopa County region.
Timmy's older sister, who recommended Becky to her parents, said at first her brother was hesitant to go to school at Mrs. Becky's, but now when he gets home, "he tells us all about the new words he has learned and about all his friends."
Two years later, "Timmy fits right in," Becky said. "We now sit and work on vocabulary, colors and numbers. I would still say he is generally shy, but he participates and learns topics so quickly."