​​​​Liliana Acosta had five children's books in her home and would read them to her children every night. But, her daughter's preschool teachers told the mother of two that she needed to read more to her 4-year-old daughter Camila. Acosta didn't know what to do.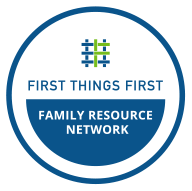 As Acosta dropped Camila off one day, she saw a flier for an FTF-funded Family Resource Center in Guadalupe. The sign read, "Parents, want support in your job as your child's first teacher? Workshops offered."
"Child's first teacher? What does that mean?" Acosta thought. She was curious.
Acosta began attending classes at the center, where parenting topics included: child development, parenting skills and discipline. There, Acosta learned about early brain development and that the words she shared with Camila and her son, 1 year old Alberto, actually built the architecture of their brain and impacted their reading level in third and fourth grade.
Many classes gave books to the parents as they completed a workshop. The home's library grew and so did reading time. The drive to and from school became a game to find letters on billboards and traffic signs.
Nearly five years later, Camila is in third grade and Alberto is in kindergarten at Wood School in Tempe. Both are doing well in school. Camila's favorite subject is math and Alberto's teachers describe him as an outstanding student.
For Acosta, the classes at the center awakened her as a parent and empowered her see herself as her children's first teacher. "If my children are to do well in school, I have to take my job as their first teacher seriously and communicate more; ask questions, be involved at school," Acosta said.