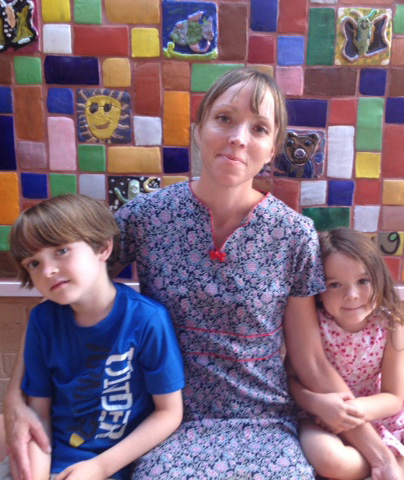 Stephanie Carl faced hard times in 2013 when she found herself raising her preschool-aged children on her own.
"I had been a stay-at-home mom, taking care of the kids while my husband worked," Carl said. "I suddenly found myself needing to figure out how to get back to work, so I could support my family. I needed to find child care for my two youngest kids."
She began by connecting with the Quality First website. Quality First is a signature program of First Things First, which partners with child care and preschool providers to improve the quality of early learning across Arizona. Quality First funds quality improvements that research proves help children thrive, such as training for teachers to expand their skills and to help create learning environments that nurture the emotional, social and academic development of every child.
Carl found a Quality First scholarship and enrolled her 6-month-old daughter and 2-year-old son in the Sunshine Preschool in Tucson. There, Carl and her children found supporting resources to encourage learning outside the classroom.
"Sunshine Preschool had a lending library from Make Way for Books," Carl said. "My children and I read all the time. Learning about early literacy and learning has caused me to shift my priorities as a parent. I have a broader knowledge of how to support my family at different stages and now I can prioritize my time with my children better."
As her youngest son entered first grade this year and her daughter began her final year in preschool, Carl said preschool prepared her children for kindergarten.
"Preschool gave them confidence, academics and exposure to a classroom environment," she said. "They learned social and emotional skills like how to share books, take turns, be in a group, and follow directions. They are ready to be successful in school!"