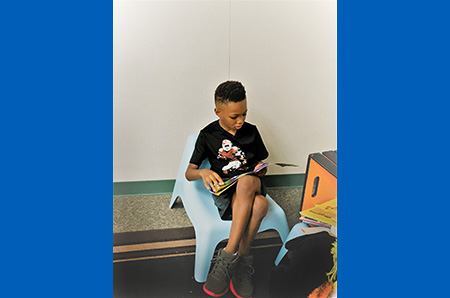 After Porsche Brown gave birth to her first child, Zaire, she remembered taking him home and being extremely nervous about being a first-time parent. Even the basics, like feeding him and knowing what to do if he got sick, were intimidating.
In the midst of her excitement and nervousness of being a new mom, Brown remembered being introduced to First Things First (FTF) at the hospital.  The FTF Phoenix South Region, the region where Brown lives, funded a program that helps moms of newborns. For Brown, getting involved with the program seemed like a logical step to be the best caregiver to her child.
Brown contacted Healthy Families, a home visitation program, which sends a family support specialist, often called a home coach, to visit mothers throughout their pregnancy and continues monthly visits up to when their child reaches age 5.
The home coach assists mothers to have a healthy pregnancy and a healthy baby. After the baby is born, the coaches' monthly visits help a parent to learn about making the home a safe place for her baby to live and play, building a support system and getting connected to health care, child care, job training and other supportive services.
As Brown participated in the program, she watched Zaire develop rapidly. The home coach told Brown about tummy time, which helps a baby to develop strong neck and back muscles while promoting motor skill development and preventing flat spots on a baby's head.
The home coach also encouraged singing and reading times.  Brown started developing confidence as a mother as she implemented the advice and techniques on a regular basis.  She saw major positive development in Zaire's motor skills, speech and his overall social interaction as he developed from a tiny baby into a 2-year-old toddler.
As he grew older, he started using complex sentences when he spoke to her. Her normally shy son started approaching new children at the playground. When Zaire was almost 3, he began to read out of the book "Good Night Moon" which was provided to Brown by her home coach.
As the months and years passed, Zaire continued to blossom and flourish. Now that he is about to start second grade, Zaire is reading at a fourth grade level.  Zaire said his favorite subject in school is reading.
"I really love to read because it's just my favorite thing to do and its fun," he said. Zaire said he wants to make a contribution to the literary world by writing his own book, "a really cool Pokémon adventure!"
Brown attributes much of Zaire's success to the foundation that was established from the home visits with Healthy Families that prepared Zaire to become "ready for school and set for life."