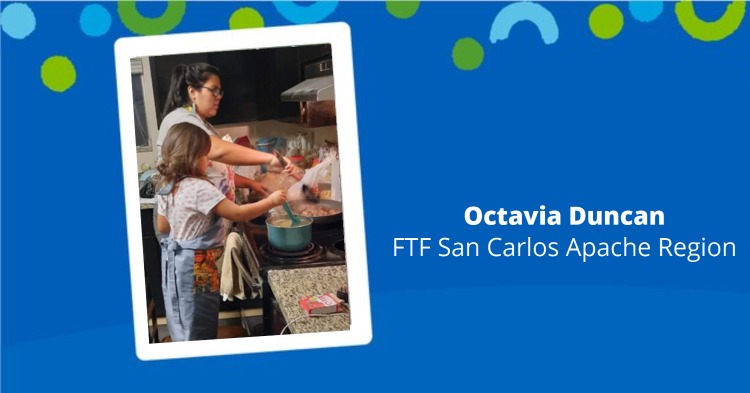 Octavia Duncan of San Carlos is the mother of two young children, Samara, 3, and Kodah, 18 months. She was concerned about their health and nutrition. Knowing that her family has a history of diabetes, she didn't want her kids to be what she calls, "processed food babies." 
So when she saw an opportunity to join a class called, Eating Smart and Being Active, she was happy to join. 
The Apache way of life teaches that the best health stems from using a sense of Shił Gozhόό in teaching about and eating nutritious food with our children and by attaining a state of Gozhόό by living an active and healthy lifestyle.
The sense of Shił Gozhόό is the sense of happiness and contentment that comes from understanding the balance between oneself, one's family, one's community and the land. Using this guiding principle, the First Things First San Carlos Apache Regional Partnership Council funds the classes through its Nutrition Obesity and Physical Activity Strategy.
The virtual classes are held weekly for one and a half hours over nine weeks. The classes cover nutrition, food safety, cooking with young children and physical activity with your kids.
"My goals when first joining the classes were to gain knowledge about healthier food choices, meal prep and to guide my children early about healthier food choices to give them the best start in life as possible," Duncan said. 
"The classes have helped me with healthier choices and recipes as well," Duncan said. "We've tried new recipes with healthy substitutes like cauliflower wings, chicken and rice, whole wheat pizza and oatmeal parfait."
Her daughter Samara was surprised the night they made pizza. "She said, 'Mommy I didn't know we could make pizza at home.'" 
The day they made fruit pizza had the children naming the colors of the fruit as they were added to the sweet crust. "And of course they loved the whip cream!" Duncan said. "Samara said, 'This is so fun, mommy!'"
The cooking has inspired Samara to be in the kitchen, while her mom cooks.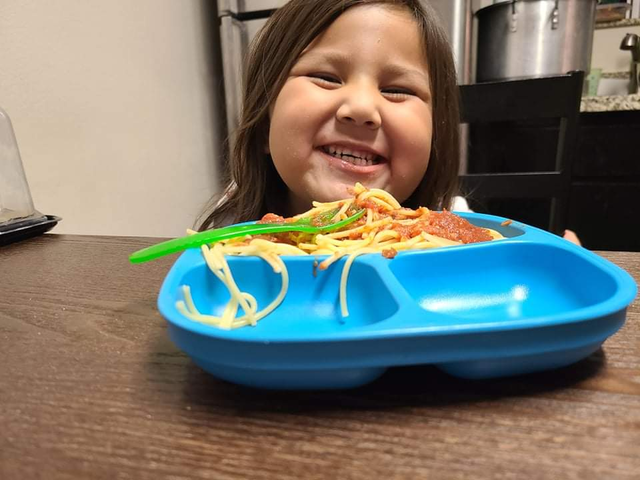 "She has a whole process she goes through," Duncan said. "She has learned food safety and washes her hands, ties on one of my aprons and proceeds to give me directions. 'Chop up the vegetables, mom and I will put them in the pot.' She also likes to name the ingredients and the colors of the different foods. She knows how to make spaghetti by heart and loves to make bread too. Little brother Kodah is starting to get interested as well, watching his sister's excitement!"
There is also a physical fitness portion in the program educating about the importance of a healthy diet and lifestyle. 
"We've begun to venture out as a family and find new trails for walks together and the kids got bikes now too and enjoy riding as a family," Duncan said. "We've learned a lot from the program, and it has motivated us to make healthier choices inside and outside our home."