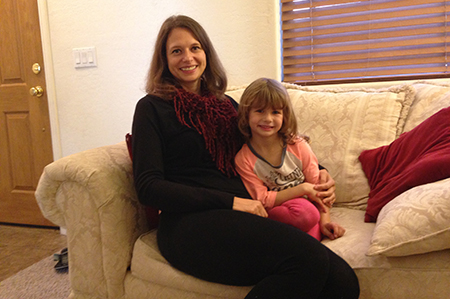 Mid-year of kindergarten at Butterfield Elementary School in Maricopa, 5-year-old Ruby Hoeh's reading indicators were assessed. She was performing at a first grade level and had a strong foundation to become a successful reader.
Her mother Kristy Hoeh attributes much of the success to Ruby's participation in the Apache Junction Fun Van program at the Maricopa Library.
First Things First funds the Apache Junction Library Fun Van to bring the program to parents, caregivers and accompanying young children ages birth to 5 that live throughout Pinal County. The Fun Van offers an eight-week program, two-part program consisting of Early Childhood STEP (Systematic Training for Effective Parenting) and Raising A Reader, both parenting education programs teach helpful parenting techniques to improve family communication and encourage cooperation.
STEP provides parents with effective discipline strategies that promote self-esteem and mutual respect.
While, Raising A Reader is designed to foster a love of books by developing a habit of reading with your child. It also teaches parents reading strategies to expand their child's thinking, promoting language and literacy development.
Hoeh signed up for the Fun Van when her daughter Ruby was just 2 years old and she was pregnant with her son, Jimmy. The program staff taught Hoeh how to engage her daughter by asking opened-ended questions with the goal of getting the kids to think.
"Every week we received a new book to take home and learned about activities kids could do in everyday life that promotes reading, text recognition and vocabulary building," Hoeh said.
The parent educator also helped Hoeh work through her daughter's daily power struggles and meltdowns.
"Kristy was feeling frustrated when she first entered our program, said Fun Van Parent Educator Felicia Smith. "Her daughter Ruby had very strong feelings and they were both just trying to get through each day. Hoeh was raised to feel like her feelings were not her own. 'That's not how you feel,' was something she heard regularly at home so she wanted to raise her children to feel comfortable expressing what they were feeling or needing."
For Hoeh, it meant learning to acknowledge her children's feelings even when she doesn't approve of how they are expressing them, such as saying, "I love you so I'm not going to argue with you," and "I see you're really upset, but it's not OK to talk to mommy like that." She also began setting personal boundaries with her children, as well as others in her life.