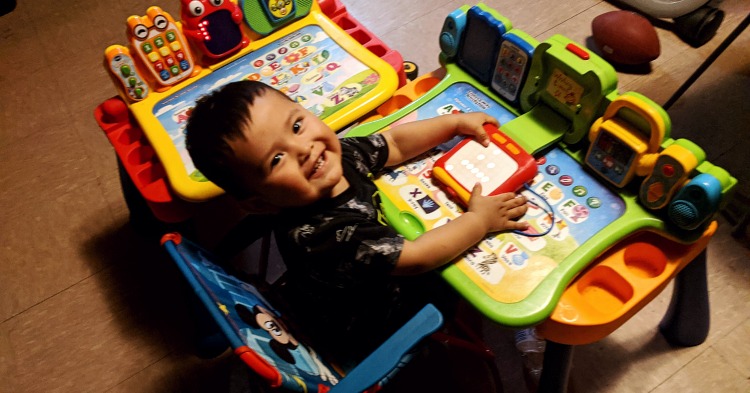 As a stay-at-home mom living in Whiteriver, Michelle Eubank takes care of her three children with her youngest child, Jasper, just turning 1 year. During weekday work hours, she also watches her two nieces and two nephews ranging from 2 months old to school age.  
She was looking for ways "to learn to be a better parent and caretaker" and found the Kith and Kin program, which is funded by First Things First White Mountain Apache Tribe Regional Partnership Council.   
The program offers family (kin), friend and neighbor (kith) child care providers a free 15-week class covering topics like nutrition, injury prevention, language, literacy, brain development and more. During the COVID-19 pandemic, the program used a virtual platform to teach classes. 
Eubank's youngest child is her 1-year-old son, Jasper. The classes offered information to help her understand early childhood development and how she could help all the children under her care to excel cognitively, emotionally and physically.
"I wanted to learn new ideas for how to take care of my baby and niece," said Eubank. "For the older kids, I wanted ideas on how to cut back on their screen time, so the kids wouldn't be stuck on their electronic devices all day."
In addition to teaching about early childhood and connecting caregivers to community resources, the program also provides free car seats, smoke alarms and fire extinguishers. The program also pays for caregivers get certified in CPR and first aid.  
"There is a need for caretaker education in the area and supporting them to provide better safety while also creating a nurturing environment for children," said Brianna Endfield, a Candelen Kith and Kin specialist/instructor.
For Eubank, the class taught her how to design a safe outdoor environment for children so they could become more active and play outside during the day. 
"In our yard, there used to be nothing," said Eubank. "Slowly we started finding things to buy to make the backyard a fun place to play in."
Eubank and her husband, John, purchased a discovery water wall that uses small buckets and other scoops so kids can gather and pour water. They also purchased a playset, two picnic tables, a small pool with a sun-protecting canopy and a basketball hoop.
"The kids love it," said Eubank. "They want to run and play outside, and it's great, because it's so much healthier for them instead of being cooped up inside on an electronic device."
Eubank also learned to create a safe environment indoors with outlet covers and a checklist of other dangers to avoid. She's used this especially with her own older children when they need a time out.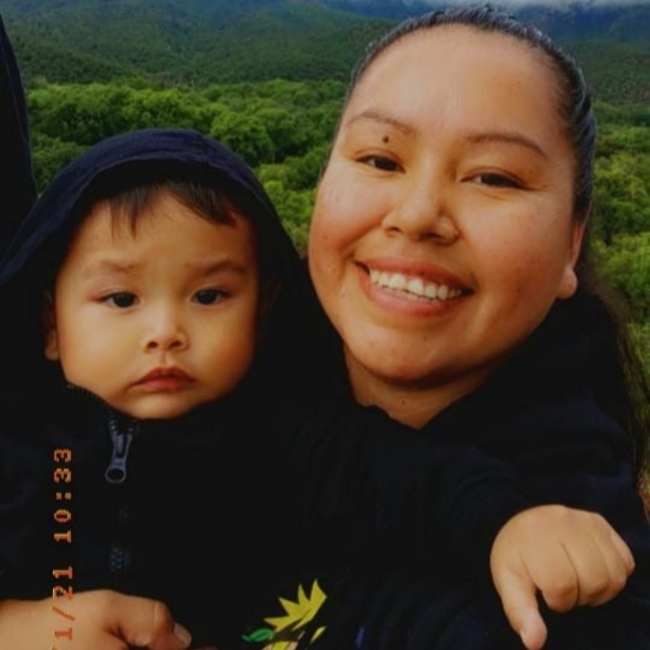 "I learned that if they are having a tantrum, I can place my child briefly in a safe room," she said. "It gives me a chance to take a moment to take a few deep breaths before trying to help them calm down. It was a good reminder for me that as a mom, sometimes I need a moment to de-stress so I can be a better parent to my kids."  
Eubank also wanted to help Jasper and her niece to prepare for kindergarten, so she works with them on their fine motor skills, such as playing with different textures of food and water. Endfield suggested online resources that Eubanks uses to plan learning activities. 
The program also provided home packages with books, crayons, scissors, colored pencils, construction paper and other materials with tips on how to make the most of interactions with kids. 
"When we do activities, I praise the kids a lot and use different words so they can expand their vocabulary," said Eubank. "This program has really helped me be more structured during the day with a routine and to communicate more with the kids. I can see them learning and everyone is less stressed."