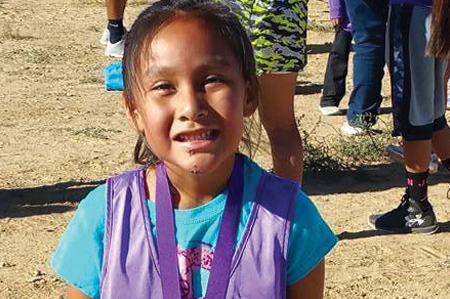 When Tia was 4 years old, her mother Tracy Billy worried about her self-esteem. Billy was working full time during the day at the hospital, taking evening classes for her nursing degree and would soon be having her second child. She was worried that the stress at home was affecting Tia. So she decided to move back to Hopi to be near the support of family.
"I don't want her to go through the same things I went through," said Billy, who became a young mom at 19 and describes how her own mother struggled to make ends meet. "I want her to finish school and go off to college because education gets you a good job."
Being home allowed Billy more opportunities to help Tia. She enrolled in the Growing Up Great parent education classes at Second Mesa. First Things First funds the program, which provides education and support to parents to help their children ages birth to 5 grow up socially, emotionally and cognitively ready to succeed in school and in life.
"I learned ways to help with her self-esteem and how important it is to encourage her and to praise her," Billy said. "The class even helped us understand that family can be your support system."
Tia is now 7 years old and involved with school activities like cheerleading and cross country. And she loves reading and regularly makes the honor roll at her school.
"Her self-esteem has blossomed," Billy said. "Education is the path to success with everything and a nurturing home environment can help them go on to college and do great things for themselves."