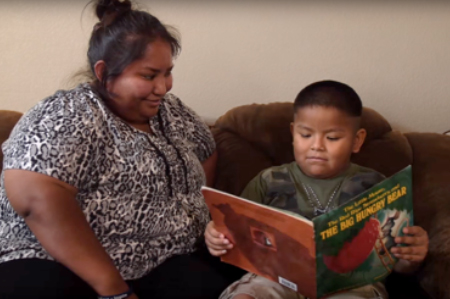 When Marlencia Benally enrolled her 1-year-old son in a program to receive children's books every month in the mail, she had no idea that she would be opening up much more than storybook worlds to him with reading.
Eight years later, she was the one to receive the happy surprise when she opened the mailbox: her son's third grade reading assessment showing an above-average reading score. The proud mom said this is just one of the positive results from her son Raivis' early introduction to books and reading.
Taking part in the Dolly Parton Imagination Library, a program funded in part by First Things First that mails a free book each month to children until they turn 5, meant much more than getting a surprise in the mail. It started a habit of daily reading that continues today.
"We read to him every day and now he reads to his little sisters every day," Benally said. "During his summer break he would read all the time; he's starting on Harry Potter books now."
Raivis, who is 9-years-old, is starting fourth grade at Rice Elementary School in San Carlos. His mom also credits his love of school, and especially reading, to those early years spent with books.
---
---
"When he started school he knew a lot more words than the other children," she said. "It helped him a lot with recognizing the alphabet and even recognizing words."
With their home library of children's books that they received through the program, other young family members are now enjoying the benefits. Raivis' sisters, Cheyenne and Mahnee, who are 7 and 8 years old, were able to share in being part of reading with their parents and now with their brother. Benally's husband cares for nieces and nephews between the ages of 3 and 8 and they also are able to share the books.
Benally remembers Raivis eagerly asking his parents to read his books throughout the day and in the evening. She remembers when he was about 3-years-old, the family was in the car, approaching a stop sign. "Mom, look, S-T-O-P, you have to stop," Raivis said.
Benally was surprised.
"I didn't know he was already learning to read," she said. Now, as he starts fourth grade, she looks forward to what this new school year will bring. "I didn't realize that this is where reading would be able to take him."